The Most Comprehensive Guide To Yoga Teacher Training
————————————————————————————————————————————————————————————————————————-
Our Mission – Students
Our mission is to offer students a resource of information that supports them along their path of becoming a yoga teacher. Whether they are just looking to deepen their practice or launch their career as a yoga teacher, our site offers students the guidance they need to to take their yoga practice to the next level.
Our Mission – Schools
Our goal is to provide schools a highly targeted and relevant environment in which to promote their upcoming teacher trainings and help them build relationships with new students.
We currently receive 25,000 highly targeted visitors per month and have numerous page one listings on Google.com (US) for
Yoga Teacher Training
Yoga Instructor Training
Yoga Instructor Certification
Yoga Teacher Salary
Yoga Training
Yoga Schools
How To Become A Yoga Teacher
200 hour yoga teacher training
Registered Yoga Schools
+ many more
Our rates are as follows:
1. Calendar Listing runs $50 for 3 months and can be seen here. You get up to 100 words. No logo.
2. Regional listing runs $149 for 12 months and can be seen here. You get up to 150 words + logo
3. Home page featured video is $195 for 2 weeks
4. Home page featured training is $100 for 2 weeks
5. Deals promotion for 1 month is $295 and can be seen here. 3000+ email list promotion & 1 month listing on the actual page.
6. Retreat listing on this page is $149 for 6 months and you get 50 words + logo and link.
7. Premium listing runs $995 for 12 months and you get the following:
Full page microsite as seen here
Up to 6 trainings listed in our calendar
Regional listing as seen here
Yoga Style listing as seen here
Promoted through our personal help desk seen here
Interview profile as seen here
Listing in our teacher directory as seen here
Listing in Registered Yoga School Directory as seen here
Listing in our 500hr teacher training directory as seen here
Home page featured training 1-week (top left)
Home page featured video 2-weeks (top right)
Promoted to our 2500 Facebook and Twitter followers
Promoted through our "Deals" email list and page as seen here
Payments are handled via PayPal and it can take 3 – 5 business days to upload your content onto the site. If you have any questions please let us know.
Here are some testimonials…
"We are extremely appreciative for the work you have done and the site is working very well for us. 1/3 of our student (30 total) enrollments have come from your site." Craig Perkins Yandara Yoga Institute
"Yoga Training Guide is a boon for my business! I am VERY happy to advertise my training with them and have earned some good results from doing so."  Vidya Jacqueline Heisel E-RYT 500  Frog Lotus Yoga International
"Yoga Training Guide has quickly become one of the top producers of new high quality leads. " Geoff McCabe CEO, Anamaya Yoga Retreat Center
"I am quite satisfied with the traffic coming through from your website. We had several enquiries and two bookings generated from your site (within first 30 days of listing). So, I am glad we joined your site!" – Ganga Grace Himalayan Yoga Institute
"Yoga Training Guide and Sergio provide a highly professional platform to share your teacher training program to the world.  The customer service that Sergio provides is stellar and he is exceptional at what he does.  He has a genuine love for teacher training programs and understands the students needs.  Through his suggestions and expertise, we were able to double the number of inquiries for our programs overnight!"  – Sean Conley Amazing Yoga
"As always Sergio, you rock!" – Sarah FlorYoga
"When Sergio first contacted me about his site I was a bit reluctant. Now I am very happy I took the time to build a relationship with him and his site" Fred Busch Power Yoga
"Thank you for all the work you do and for creating a wonderful site to showcase our teacher trainings." – Lillah Schwartz Lighten Up Yoga/Transformational Yoga Trainings
"We have received a nice flow of traffic from your site and have created great connections with yoga lovers all over the world interested in joining our yoga teacher training in Thailand " – David Lertsin It's Yoga Thailand
YogaTraininGuide is something we really believe in and support! Liat Rainbow Kids Yoga
"Sergio, I am really pleased with how it's turned out and what you have done with your site and we are very happy to be a part of this." Rod Stryker ParaYoga
"I have been advertising with Yoga Training Guide for a month now and have had a nice flow of interest for my Teacher Training Programs – Great results for a bargain price!" Doug Swenson Sadhana Yoga Chi
"I was a bit hesitant to sign up for the listing on this web site first, but I do not regret it now. It ranks really high in search engines, and Sergio has been really supportive, suggestive, responsive and helpful in creating a nice page for my training and promoting it on his web site. He keeps coming up with new ideas to help promote the various trainings, and it's really nice that students can see all the trainings in one place, and be able to chose the one most appropriate for them." – Konstantin Miachin Vikasa Yoga
————————————————————————————————————————————————————————————————————————-
About Our Service
Building Relationships Online
For a student to spend their hard earned money on a school they are not sure of will take some finesse and attention to detail. And in this day and age of short attention spans and social media, building a relationship with a new student online is an art form. What we have done with our site is created an environment in which they can get to learn more about you and start the process of building a relationship using multiple channels…
Multiple Entry Points
Each student has their "own way" of searching out the information they seek. This is why we have created multiple entry points for students to not only get to our site, but to also learn more about your school. Whether they are searching out a region, a style of yoga, how much money they can make, tips on teaching methodologies, yoga teacher trends, etc…what we have done is covered ALL THE BASES of how students seek out information and then direct them to the schools on our site.
The Benefit
By listing your school with Yoga Training Guide, you not only gain access to all of this targeted traffic, but your school is now readily available to anyone looking for information on becoming a yoga teacher. Unlike other yoga sites, our main focus is on yoga teacher training which means our attention is focused on supporting students and schools.
Pay A Fraction Of the Cost You Would Pay Google!
Google currently charges around $3.00 per click for the terms we rank for. With some of the packages we offer, some of the schools are paying as little as $0.33 per click! Just look at some of the stats from our school pages:

——————————————————————————————————————————————————————————————————————————-
Case Studies
Below are some stats that show how many visitors some of these schools received to their page in a 30 day span. Schools receive anywhere from 150 – 600 clicks per month depending on the package they have purchased. Please notice how low the "bounce rate" is.
Amazing Yoga – 615 Visitors
Frog Lotus Yoga International – 230 Visitors
Leela Mata Peaceful Valley Ashram – 247 Visitors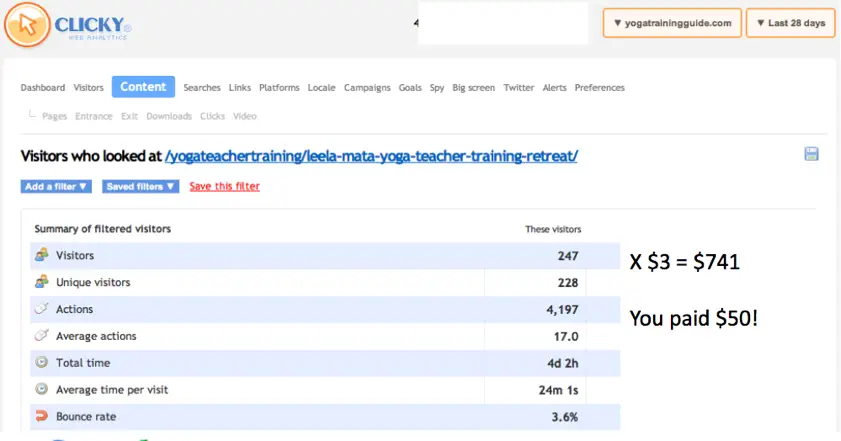 Yandara Yoga Institute – 372 Visitors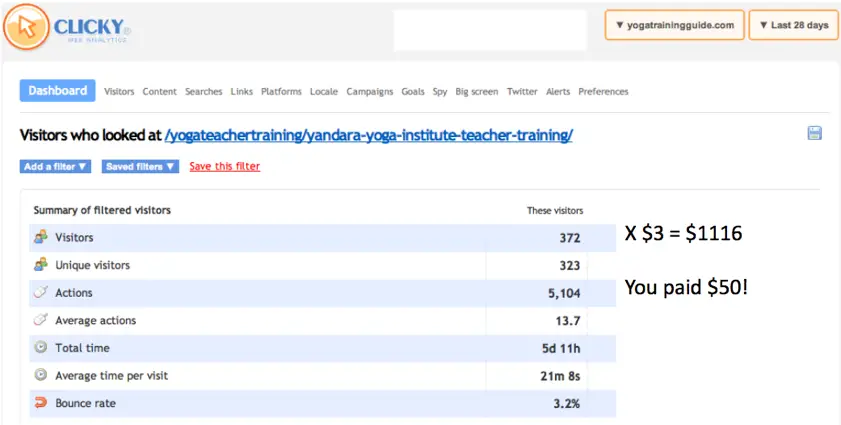 Contact
Sergio Diazgranados
sergio@yogatrainingguide.com