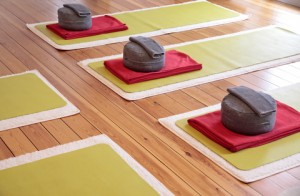 The Los Angeles Times recently released a report by the research group IBISWorld that showed yoga studios are one of the fastest growing industries. The Times spoke about how, "A burgeoning focus on fitness – which has also recently advanced the fortunes of programs such as P90X and CrossFit – has helped yoga and Pilates establishment resist the recession and grow 12.1% annually."
The report from IBISWorld also went on to say that, "Increasing demand from yoga and Pilates practitioners has led to robust growth in studios over the past five years. Revenue will continue to strengthen, due to rising interest from new markets like baby boomers and men. Competition from health clubs that offer yoga and Pilates classes will remain strong, since consumers typically attend their classes out of convenience. Over the five years to 2011, revenue for the Pilates and Yoga Studios industry is estimated to increase at an average annual rate of 9.5% to $6.5 billion."
As many businesses struggle to make ends meet, the yoga studio industry continues to expand as more people look to alternatives for their health. Studies have found that diets just don't work when it comes to helping people stay fit and that being part of a community really improves peoples ability to stick to a regimen.
Many people in the health and wellness sector know that having support really helps keep people on the path of following through on their goals. When people have to do it alone it they tend to just throw in the towel which is why yoga classes can add a different twist. Not only does it provide the support, but it makes exercising more interesting and helps calm the mind.
Because yoga studios are expanding this means there will be a need for more teachers! Besides yoga studios, the other two fastest growing industries are hot sauce and solar panels.