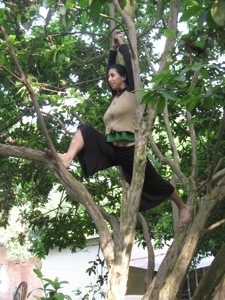 It's fun. It's balancing. It's strengthening. And most of all, it's portable. Yoga has been my favorite activity for the last ten years. Everywhere I have traveled, everywhere I have lived, I have taken it with me and shared it with others, sometimes even inspiring others to make it part of their lives. Its diversity makes it applicable to different people's needs and personalities, manifesting collective positive outcomes.
Yoga helps me to express my dedication to health issues and life balance, representing a lifestyle and not just an exercise. I want to be able to share the gift of yoga in the most effective way possible, and to me, that necessitates a more thorough understanding of the philosophies and technical practices of the asanas, how each pose can benefit the body in its own way as well as together with other poses.
I have had many favorite yoga teachers, in Los Angeles, New York, Guatemala, France, Iran and Washington DC. I have taken something from each one, be it a philosophy, a technique, a flow sequence, or a style. I remember one teacher I had in particular in Los Angeles named Rudy, a power yoga instructor. One line he said has stayed with me not only in yoga, but in life: "It's never too late to have a perfect yoga class." I took this to mean, let go of whatever might have happened up until now, you can still make your next move with fulfillment and joy and that in itself makes for a perfect class.
As I aspire to learn this art in the part of the world where it originated, I want to study in the peaceful setting of Rishikesh, India at Tribe Yoga. Their yoga training is comprehensive in terms of styles of yoga and meditation. Ashtanga, my preferred style of practice, is given special focus here which will allow me to explore it more deeply and be guided in its movements. Tribe includes a study of anatomy and physiology which is essential in understanding the inner workings of body movement.
Set on a lucid section of the Ganges River and nestled in the foothills of the Himalayas, the surrounding elements will help me quiet the mind in order to better listen to my body, as well as discover inner peace and balance; these will be key elements to bring back to an urban space, where finding inner peace is often quite challenging.
I plan to take my training with me everywhere I go – each country and community. I want to make yoga an accessible practice, both geographically and mentally. As yoga is perfectly portable and, at its foundation, only requires one's own body, I feel it would serve as a valuable outlet for those seeking movement and serenity within their means. I would particularly love to work with HIV-positive support groups to supplement my outreach efforts as a public health professional so I can introduce a holistic mechanism for improving health and well-being.
2012 Yoga Scholarship Essay
By: Neda Dowlatshahi
If you liked this article and want them to win a free yoga teacher training, then make sure to vote for her by leaving a comment (scroll all the way to the bottom), and sharing this article on Facebook or Twitter. Each comment, Facebook, and Twitter share counts as one vote and you can do all three!
Are you interested in becoming a yoga teacher? Then visit our Yoga School Directory to find the right teacher training. Or, visit our Yoga Retreats page to explore beautiful yoga vacations from around the world.