Interested In A Costa Rica Yoga Teacher Training?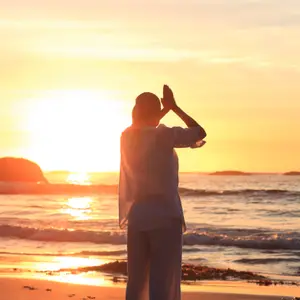 Looking for a yoga teacher training in Costa Rica? With its beautiful beaches, warm weather, and tropical rainforests, Costa Rica has become one of yoga capitals of Central America.  Known as a hippie and artist refuge back in the 80's, individuals seeking a more natural and slower paced life moved there looking to establish a healthier lifestyle. With that came a plethora of organic farms, wellness retreats, and of course yoga.
Listed below are some of the top schools offering yoga certification in Costa Rica:
Amazing Yoga Costa Rica Teacher Training
Led by veteran Power yoga teachers Sean and Karen Conley, Amazing Yoga offers yoga teacher training programs in Costa Rica held at the beautiful Pura Vida resort. The course is a 100-hour training that takes place for one week and provides a very solid foundation for teaching Power Flow Yoga. During this program you will be taught such things as study of asana and alignment, intelligent sequencing, meditation and pranayama, the art of assisting, modification for different bodies and abilities, how to prepare classes, and how to develop your overall teaching skills.
To learn more about their Costa Rica yoga certification please visit Amazing Yoga Teacher Training.
Anamaya Costa Rica Teacher Training
Known for their lush and tropical resort, Anamaya has established themselves as one of the leaders in the Costa Rica yoga community. They currently offer a 200-hour yoga teacher training led by master teachers Jacki Chiodo and Cain Carroll. If studying to become a yoga teacher wasn't enough for your, their resort comes with its own waterfalls, a water ledge looking over the beach horizon, organic food with raw and vegan options, and salt water infinity pool, infrared saunas, and a plethora of activities which include surfing lessons, scuba, snorkeling, and much more.
Follow this link to learn more about Anamaya yoga teacher training.
Frog Lotus Yoga International
Another well-established school offering yoga teacher training in Costa Rica is Frog Lotus Yoga International. Lead by veteran teacher (E-RYT 500) Vidya Jacqueline Heisel, the program not only offers you the opportunity to delve deeper into your own practice, but you will also be ready to teach in front of others when you complete the program. Their trainings include an in depth study of 100 poses, anatomy, yogic philosophy, meditation, pranayama, chanting, history of yoga, diet, business, and much more. The training takes place on the caribbean side of Costa Rica (which means great beaches and natural wildlife!) at the lovely Goddess Garden in Cahuita.
To learn more visit Frog Lotus Yoga International
Tips When Visiting Costa Rica
If you are coming from outside of Costa Rica, make sure you do some research and are well prepared for your journey. Of course this goes without saying that you will need a passport. However, most people do not need a Visa. Make sure you check with your local government agencies to see if you will require one. Generally you do not if your stay is less then 90 days.
Smart Traveler Enrollment Program (STEP) – If you are coming from the United States, then you might want to check out this program that helps its citizens be a little safer on their journey. It is a free service that will put you in touch with the local US embassy and will offer any support or guidance should you come across an emergency. The embassy is located in Pavas, San Jose and their phone number is (506) 2519-2000 Use this link to enroll in the STEP program and to learn more about the US Costa Rica embassy
Weather – The weather here is always tropical and depending on where you go take your training, there can be some serious rainfall. Remember you will be close to the Amazon so the weather can change drastically almost instantly. Make sure you are prepared for both wet and humid weather.
Bugs – Because this is the Amazon, there are some serious bugs out here. Not bad, but definitely a part of the adventure. If you have any issues with bugs this will be a great opportunity to overcome them. People always say that they want to go back to nature and this is the place that is already living a very natural lifestyle.
Language – While Spanish is the main language in Costa Rica, most people here speak English and are very confortable with it. In fact, because so many people have traveled from all over the world to live there, they have become quite accustomed to speaking English. Although it never hurts to learn some Spanish in case you get caught in a jam or to show some respect for the peoples land you are now staying in.
Getting To Costa Rica
San Jose is the major capitol of Costa Rica so you will want to fly in to Juan Santamaria Airport (SJO) When searching for the best prices, definitely check out Kayak but some of your major airlines servicing this airport include American Airlines, Delta, US Airways, Jet Blue, Iberia, and many others.
Healthy Living In Costa Rica
Costa Rica is now considered one of the main places to go if you are a Westerner looking to check out and live a more balanced and slow paced life. While the major city of San Jose is a bit dirty, once you get out to the Coast and see the beautiful mountains, rainforest, and beaches, you will see why so many people go and never come back. If you are going to take a yoga teacher training in Costa Rica and have some extra time to stay there, here are some suggestions:
Wildlife – Well, you really can't miss this while you are there. Just look all around you and its all there. Amazing birds, lush forests, amazing hillsides, beautiful waterfalls, animals, active volcano, etc…You name it and they got.
Surfing – This place is very well known for its amazing surfing and many beaches are newbie friendly. If you have ever wanted to try surfing then this is the place to do it.
Sustainable Living – So many people are now interested in going back to living off the land, off grid, and eating more local. There are many sustainable farms out there that offer work/live trade opportunities where you can stay with them in exchange for doing some work. Some include Punta Mona and Finca Amrta. To get a full list of farms that offer this opportunity you can check out WWOOFcostRica.
More Travel Tips For Costa Rica
There really is so much you can do in Costa Rica that it would take a life time to even scratch the surface. To learn more about this exotic land check out:
Lonely Planet – This site has some pretty good information and can put you in contact with other people who are or have already visited. There is a nice little community here and they can offer some tips and suggestions.
Wiki Travel – Sort of the WikiPedia for travel, they offer more of an encyclopedia approach to their information. If you want some dry basic info on the history of Costa Rica or what their lifestyle and agriculture is all about, it's worth checking out.
Travel State – If you are coming from the United States then this offers some great tips and resources to ensure you have a safe trip.
Costa Rica Yoga Studios – If you plan to stay longer in the region, then you might want to get to know more about the studios in the area and make friends!
Taking a Costa Rica yoga teacher training can be very exciting if you are prepared. Just make sure you set clear intentions for what you want and get the most out of your adventure!
Are you interested in becoming a yoga teacher? Then visit our Yoga School Directory to find the right teacher training. Or, visit our Yoga Retreats page to explore beautiful yoga vacations from around the world.