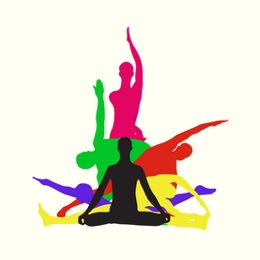 "Aahh…" I exhale as I enter, my feet stick to my green mat and I take a seat. I sit cross-legged, usually with my left foot over my right but today, I'm putting my right foot on top. I begin to breathe, deeply, becoming conscious of the current state of my body. My forehead is tight with stress from work and the uncertainty, the back is straight but slightly aching, my shoulders as usual are tight, my breathe moves in out, slow and controlled. I begin to focus on my body and let go of the need to change the way that it is.
As I move through the postures my mind clears, I become more energized and feel happy. My body has not changed, I don't have a better paying job, but that doesn't matter because I have this moment to be happy. As I breathe and move I take the sun into my heart, feel its warmth, and transform that into love projecting outward. I feel an overwhelming since of peace and relaxation. Peace I want to share with everyone, even if only for a minute. I am able to ease in and out of situations with a calmness that allows me to speak love, be compassionate to myself and others and laugh at the silly things that happen. I am aware of that I am human and so is everyone else. I have an acceptance of my human nature to sing, jump, dance and giggle and I encourage my fellows to embrace theirs.
Yoga has taught me more about life then any other activity or religion I've ever partaken in. After walking in to the studio feeling run down, worthless and sad, and leaving practice being able to accept and know, with a certainty, that it will change, and that I am ok. I do not have to be a certain way to be loved, to be at peace, or to be happy. I can be happy at any moment during the day. Challenging my beliefs and my abilities about myself through yoga has helped me to see reality, as it is, not what I think it should be. Things I thought I could not do, I did. Times I thought I would not make it through, I did. Places I thought I'd never go, I went. Yoga is my spirituality, it's when I connect with that all loving force that has no judgment or criticism, and is pure acceptance. Yoga has taught me that the divine exists in everything at is perfectly beautiful. I want to share this. I want to teach to give away what I have, love, peace and acceptance.
I have spent a lot of time in many yoga studios and the most influential times were due to the teacher. Tanya Rose, at my local Bikram studio, opened my heart during one class in camel pose, I started to cry. She helped my through it, telling me, "let it go, you don't need it anymore." She started teaching over ten years ago and now has her own studio, which holds classes where all the profit goes out as donations, she helps individuals and organizations in the community. Bettering the city for all its residents. The wisdom I've gained, not only from Tanya, but many teachers at that studio, has helped improve my quality and understanding of life.
Another teacher I tremendously admire is Jenny, from my university fitness center. I would rarely miss her class because I felt her loving, happy energy every time I went and I believe it rubbed off on me. The postures were such a joyous and elaborate expressions of life, they made me so empowered, unstoppable and strong. Jenny inspired me to live my life as an expression of my being, joyous and elaborate.
All my life I've felt like I could heal people but I've been too afraid to do anything with it. So here is my first step, putting yogic wisdom to use in my life and applying for this scholarship. I have done a lot of research on the many programs, all of which have such great founders and wonderful things to offer, and decided I would like to attend the Agama Yoga Training Course. I have chosen this course because it is a 12-week, 500 hour program, teaching different types of yoga, philosophy, body anatomy, breathing, ayurvedic healing approaches and more. This is a disciplined program and the challenge entices me.
After graduation from this program I hope to be internationally certified to successfully plant seeds of knowledge and wisdom in any student that crosses my path, making for a better, brighter future for them and everyone the encounter and ultimately the world. Thank you for your time and hope to see you in yoga!
2012 Yoga Scholarship Essay
By: Rachel Morman
If you liked this article and want them to win a free yoga teacher training, then make sure to vote for her by leaving a comment (scroll all the way to the bottom), and sharing this article on Facebook or Twitter. Each comment, Facebook, and Twitter share counts as one vote and you can do all three!
Are you interested in becoming a yoga teacher? Then visit our Yoga School Directory to find the right teacher training. Or, visit our Yoga Retreats page to explore beautiful yoga vacations from around the world.