Recommended Reading: The Key Muscles of Yoga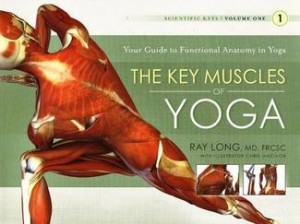 Written by Ray Long MD, The Key Muscles of Yoga is an important book for students interested in becoming a yoga teacher. Human anatomy is vital information for any new yoga instructor to understand. However, anatomy is full of complicated terms and definitions, and in addition to learning Sanskrit, asanas, etc, anatomy can feel completely overwhelming. Yoga Alliance requires registered yoga certification programs to teach anatomy, so there is no escaping it in a yoga teacher training. Fortunately, Long's book helps to soften the blow of such a perplexing subject. Unlike many anatomy books, Long's tone is not solely cutthroat scientific terminology.  Long is not only a board certified orthopedic surgeon, he is also a student of B.K.S. Iyengar and other international masters of Yoga. His writing is an accessible marriage of his two professions.
The Importance Of Anatomy For Yoga Teachers
Anatomy is a vital element of teaching yoga. Yoga instructors are not doctors by a long shot, however, they are liable for problems a student might incur in their class. If a student is injured in a class, he or she can attempt to sue the instructor. A good sense of anatomy allows the instructor to prevent such problems by working the body correctly and efficiently. The body is a complicated entity with 640 muscles. Students often rely on instructors to answer questions about problem "areas," increasing strength and/or flexibility in certain muscle groups, and many other anatomical aspects with which an "Average Joe" might not be familiar. Long's book is a fantastic reference in that regard because it is divided into regions of the body. If a student cannot give enough description as far as what is causing a problem or simply points to a general region, the book makes it easy to flip through the pages and find the muscle corresponding muscle.
Key Muscles Of Yoga Illustrations
A yoga instructor can find Macivor's illustrations to be largely helpful. They are large and clean-cut, and color-coded 3D renderings illuminate the muscles on the skeleton. The muscle being described is red against a white skeleton, which makes it easy to grasp where the muscle is located in relation to the rest of the body. The illustrations, along with Long's captions, can provide fodder for explanations of the asanas. Students often appreciate "pearls of wisdom," throughout a class, and this book delivers them directly to the reader.
Anatomy, as a yoga instructor, is crucial for safety and liability reasons. Understanding anatomy also deepens knowledge of the asanas, helps in developing sequences, and gives students confidence that their teacher is knowledgeable. There is much to extract from The Key Muscles of Yoga: Scientific Keys, Volume I, an essential tool in aiding a teacher trainee in his or her journey to becoming an instructor.
Review by: Alex Zaglin
Are you interested in becoming a yoga teacher? Then visit our Yoga School Directory to find the right teacher training. Or, visit our Yoga Retreats page to explore beautiful yoga vacations from around the world.