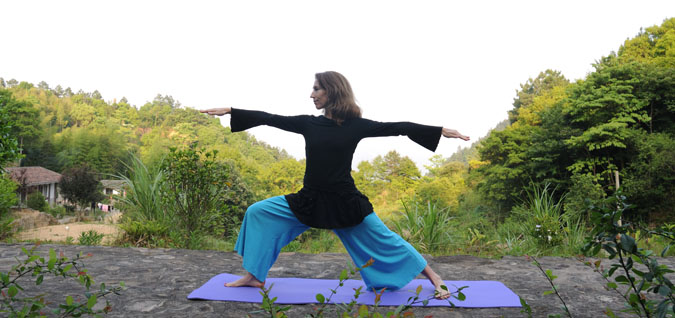 Rachel Hull, the director and senior teacher at Shakti Spirit Yoga is known for her clarity of instruction, creative sequencing and constructive use of alignment and props. She usually teaches a slower to medium paced yoga class, allowing time for students to feel grounded and connected with their breath. She encourages students to practice in a calm and graceful way that is suitable for their individual bodies. Depending on the class, she may emphasize flow, alignment or even introduce sequences to help balance the Ayurvedic doshas. Rachel commenced pre-natal Iyengar classes when pregnant with her son, and has been practicing Yoga for 24 years and teaching for 14 years. She has taught on at least 20 Yoga teacher trainings between Australia, Indonesia, India, China, Japan & Malaysia. Rachel is an Ayurvedic Lifestyle Consultant who trained for 2 years with a Tibetan Ayurvedic Doctor. She is based in Ubud, Bali.
[adsense]
In this interview Rachel offers some insight and wisdom for aspiring yoga teachers on how to become a yoga teacher.
What is yoga to you?
Yoga to me is ultimately about evolution and transformation.
How do you see yoga evolving in the next 5 – 10 years?
I see the more commercialized approach that we've seen over the past few years, continuing in various forms, but I also think many people are searching for something deeper and more healing, so I believe the interest in Yoga Therapy and its related topics such as Ayurveda, Therapeutic Themed Asana Classes, Philosophy, Yogic Psychology and the Mind, will increase.
At the same time I see dynamic group asana classes continuing, hopefully with both students and teachers approaching the class with something of a therapeutic intention.
What inspired you to become a yoga teacher and with whom have you done your trainings? 
20 years ago I started an apprenticeship with the Byron Yoga Studio where most of the teachers had a strong Iyengar influence. I apprenticed mainly with Louisa Sear but I also assisted the other teachers as well. This was a great way to start as I assisted in public classes and learned how to use props and give hands-on adjustments. I then assisted Louisa in Ashtanga Vinyasa classes when she moved more in that direction, which also gave me lots of experience adjusting and observing in public classes without the pressure of actually being the teacher. Then in 1997 I attended Yoga Arts 9-month full time Teacher Training, in Byron Bay, Australia.
Two days after that finished I started teaching public classes, and then as the years went on, I was invited to teach in small roles on a couple of teacher trainings. As my experience grew, the roles got larger, until now I run my own trainings. During the trainings I participate in as many of the other teachers' classes as I can, which is a great way to keep learning and expanding my knowledge.
Additionally I studied Ayurveda formally for two years with an Ayurvedic Doctor and this has had a huge influence on the way I approach Yoga and health.
I have also attended trainings and workshops with literally dozens of Yoga teachers over the years from various traditions, including Donna Farhi, Desikachar, Venkatesh (Mysore, India) and recently Ganesh Mohan in Chennai, India.
What have been some of the biggest challenges in developing your teaching career and how did you overcome them?
I first started teaching in Byron Bay, Australia, which is known as the Yoga capital of Australia. This was great for being a student but challenging as a new teacher. So sticking with it and continuing to attend workshops, etc, while struggling financially, was a challenge. After years of doing that I felt that it would be sad if now that I really had some knowledge and something worth sharing, I had to go and do something else. And also keeping my spirits up and believing in myself, even if the classes weren't huge, was a challenge. So I made a move overseas to China to sort of 'throw myself out there'. It was not ultimately where I wanted to be, but it did help me find my confidence and voice as a teacher, without feeling overshadowed. And it helped me reconfirm that I do have something valuable to offer, particularly with the Ayurvedic aspect in addition to the Yoga.
As the director of your schools teacher training programs, what is your overall goal and objective?
To train safe and inspiring Yoga teachers who have a solid and regular self-practice, and who are willing to keep learning, researching and growing, themselves. And to train teachers who have a solid grounding in both theoretical and practical Ayurvedic principles, which I believe go hand in hand with Yoga. I also believe it's important to train teachers who are able to analyze and think for themselves, and not just 'parrot' information.
What do you feel is unique about your yoga teacher training programs versus other schools? Please tell us about your program.
The Shakti Spirit Yoga and Ayurveda Trainings, of which I am the Director, run for 6 weeks. Of course, there is nothing like apprenticing and being mentored over a long period of time, and if this opportunity presents itself then it can be a good option. If that's not available or not suitable to your situation, then a training such as what we are offering can be a good choice. Our teachers are very experienced. For example I have been practicing for 25 years, teaching for 15 years and teaching on trainings for 10 years. I know that there are many other trainings out there where the main teachers/directors are recent graduates and have not been teaching for very long. Also other trainings are running for only 2-4 weeks, whereas in 6 weeks we do have time to delve deeply into the subject matter and to get to know each other. We accept 16 students maximum, which again is different from the model being used in many programs, where there may be 40+ people in the room. For our Level 1 (230 hour) Trainings, we set a 2-year previous practice standard, meaning we are not just taking total beginners into our programs, which would be like saying you want to be a violin teacher if you've never picked up a violin!
On staff (depending on the training) we have an Ayurvedic Doctor from India, as well as a Sanskrit/Taoist Scholar who has lived in Nepal/Asia for the past 30+ years, also other gifted teachers who are all deeply dedicated to their Yogic path and who I have personally chosen to work with because I believe they can contribute something of value to the trainings. One student recently commented that she likes how we have teachers who are experts in their fields, rather than just one or two teachers running the entire program (as was the case with her last training).
We are not a flashy school but we are well organized and give a solid grounding for the Yogic path and Yoga teaching.
And last but not least, our trainings are mostly held in Ubud in Bali, which is a pretty great place to attend a training.
What type of students would best fit your programs?
Students who are open minded and who enjoy practicing in a grounded way, paying attention to alignment. Students who are open to evolving and transforming, which may come about in ways that are least expected – sometimes small and subtle and sometimes more dramatic. Students who want to establish a regular self practice if they don't already have one. Students who enjoy learning about the more therapeutic aspects of Yoga, as well as who are up for the challenge and pleasure of practicing pranayama and meditation almost daily for at least 1 hour each day. Students who are interested in learning more about Ayurveda. People who are able to keep a sense of humor about any of their personal emotional issues that may arise during such a training, and people that, while valuing their alone time and personal space, generally like other people and are able to interact within a group. Also, enjoying the tropics and Balinese culture helps!
What qualities do you feel make a good yoga teacher?
Well…all of what I said above about the type of students that would best fit the program would also apply here. But in addition, teaching involves being in front of people and making sure they can hear and understand you, so a clear speaking voice helps. Some people have that naturally and for others it's something they can work on through attending a good Yoga Teacher Training as well as sometimes through other means (such as voice work used in Drama/Theatre classes, for example).  I also think it's important to be established and comfortable in your own practice so that when you teach or demonstrate, it is familiar and natural to you. This doesn't mean you need to be able to do every fancy pose or technique (there are certainly some that I don't do), but what you do practice and teach should give the students confidence in your ability.
The teacher needs to find a balance between being compassionate, kind and caring, while at the same time having a confidence and presence that makes them a good leader. They do not necessarily have to be best friends with all their students, although being friendly is of course nice.
Having a keen eye for detail and some training in anatomy or functional human movement is important, and enjoying research is also helpful for all the many times you'll need to research more about a subject or condition. The teacher needs to find their authentic voice and approach so that what they are saying rings true. 
Is there any advice you would offer to aspiring yoga teachers?
You don't need to be perfect to teach Yoga, but you do need to be dedicated and consistent and it's really important to keep up a regular self-practice. It certainly helps to feel like the initial training you received was solid and gave you skills to address the situations and students you will be presented with. Of course, you're never going to know everything about everything … even if you study for 10 years. So start where you are, making sure to teach in a way that people can keep themselves safe. Acknowledge what you're good at as well any areas where you may be weak and expand upon what you're good at while gaining more experience where you're weak (through further research, training or practice, etc). See if there's a teacher you respect who will let you assist in their classes.
On the business side: Establishing yourself in any business can be challenging. Even if you're very good at what you do, people still need to hear about you and then make the effort to attend your classes. Once you get to the stage of word of mouth referrals then that's great. This usually takes time, so, depending on your situation, it can be wise to initially have some income coming in from another source, and to start to teach a class or two per week at first. As your confidence and student base grows, you can look at cutting back on the other work you might be doing and increasing your Yoga classes. To make a full time wage from teaching Yoga, teachers often teach 12 or more classes per week. Make sure you are able to keep your love of Yoga as well as your own Yoga practice if you're teaching that much.
Unless you come from a marketing background, get help from people who have more experience than you around the marketing side of things, including online or other promotion and websites, etc. If you're savvy with the internet and have the time, there are also many things you can do for yourself. This, of course, requires regular maintenance, time and consistency to work.
In the beginning it's not unusual to say yes to every Yoga job that becomes available, which can have you running all over town, if you're not careful.
Eventually you'll start to sort out what is working for you and what is not, and be more discerning about the classes you accept. Gradually, in time, things will grow. But you do need to be consistent and reliable and, at times, readjust your approach.
If you're teaching a lot, make sure to keep time for your own practice, including a nourishing Restorative practice, so that you too keep shining.
To learn more about her school please visit Shakti Spirit Yoga