Interested In Taking A Yoga Instructor Certification In Mexico?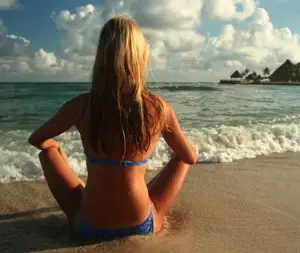 If you are looking to enroll in a yoga teacher training in Mexico, then look no further. As students of yoga, nothing is more exciting then taking your practice to the next level and learning how to teach yoga. Whether you are just looking to deepen your practice and understanding, or if you are looking to launch and build a career as a yoga teacher, taking a yoga instructor certification course in a lush environment like Mexico can be exciting and rewarding for many reasons.
Amazing Yoga Tulum Mexico Teacher Training
Tulum is now considered one of Mexico's most sacred and tropical paradises. It is the new Costa Rica of Mexico and is becoming one of the main central points for yoga. Amazing Yoga has been offering some of the most profound yoga certification programs and has established themselves as a premier school. They offer Power Flow Yoga programs that are inspired and influenced by master teach Baron Baptiste.
They have multiple 100-hour teacher training programs happening throughout the year that include both level 1 and advanced.  Their programs focus on study of asana alignment, intelligent sequencing, meditation and pranayama, the art of assisting, modifications for different bodies and abilities, how to prepare for classes, and how to become an inspiring yoga teacher. To learn more about their yoga instructor training in Mexico you can visit Amazing Yoga Teacher Training.
Yandara Baja Mexico Yoga Teacher Training
The Yandara Yoga Institute is well-known for it's beautiful space in the Baja peninsula of Mexico where they offer over eight yoga teacher trainings a year. Their yoga certification programs are a 16 or 26-days depending on how much your schedule will allow. The program covers all forms of the yogic and holistic lifestyle and is not only about teaching the methods, but also about living them. The 200-hour Yoga Alliance accredited course will cover all the basics of asana practice and sequencing, meditation, pranayama, the Yoga Sutras, yoga in the modern world, communication skills, and much more. To learn more please visit the Yandara Yoga Institute teacher training page.
Tips When Visiting Mexico
If you are going to be visiting from outside of Mexico, then it will be wise to be as prepared as possible. While Mexico has come a long way in their development and is quite safe these days, it is still smart to research as much information as possible and be aware of some of the challenges you might face as a tourist.
Travel State – If you are traveling from the United States, as a service of the bureau of consular affairs and a division of the U.S. Department of State, they offer a full site offering tips and suggestions on how to travel safe and acquire any necessary passports or visas. To learn more you can visit TravelState.gov
What Is Needed When Traveling To Mexico?
You will need three major requirements
A Photo I.D. – This can be in the form of a driver's license of passport
A Tourist Card or F.M.N.
Valid Proof of Citizenship
One of the most important documents you are going to need is your tourist card. This acts as your permission slip to be in Mexico and is free to get. Most airlines will offer this documentation but its good to call ahead of time and make sure they have it. If not, you can download it from some travel sites. Just remember that each country of residence has different stipulations and you should consult your local travel agent or government bureau to get the exact details of what you will be required to have when entering and returning.
To learn more about what you need to enter Mexico visit Go2Mexico
Getting To Mexico
Depending on where you are coming from will make a difference in which airlines you should take. It is always wise if you are traveling long distances to consult a travel agent. But if you feel comfortable on your own then they best place to get deals on air flights is Kayak. The major Mexican airline is AeroMexico. To get a full list of all the airlines from Mexico you can visit the Wikipedia page which has a full list of all the airlines. Just make sure if you are going to try a smaller or lesser known airline to see if you can find some reviews online. When traveling long distances, sometimes spending the extra couple of hundred dollars is well worth it.
Mexico Yoga and Art Festival
Depending on when you visit Mexico, you might want to check out the Yoga Art Festival that takes place in April (exact dates vary every year). Located in the mountains of Iztaccihuatl, the festival offers many workshops, yoga classes, Kirtan, daily morning Sadhana, locally based cultural events, and is children friendly as they offer programs for the little ones as well. To learn more you can visit Mexico Yoga Art Festival.
Lets face it, who wouldn't want to take a yoga teacher training in Mexico? I mean the lush air and beautiful beaches plus yoga?! Learning how to become a yoga instructor can be one of the most rewarding careers and kicking it off in a tropical paradise like this quite a way to start this life.
Are you interested in becoming a yoga teacher? Then visit our Yoga School Directory to find the right teacher training. Or, visit our Yoga Retreats page to explore beautiful yoga vacations from around the world.