A Guide To Kundalini Yoga Instructor Training
Interested in taking a Kundalini yoga teacher training program? While many yoga students tend to focus on fitness oriented styles such as Hatha, Vinyasa, Ashtanga, and Power Yoga, more people are now opening their eyes to the fact that Kundalini Yoga is a very powerful force and practice. It is an "inner" approach to practicing and builds energy in a similar way as Tai Chi or Qi Gong. If you are interested in taking a Kundalini yoga certification program, below is one of the top schools in the country offering this course.
Yoga Village Kundalini Yoga Training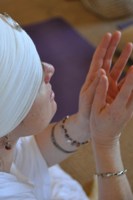 Yoga Village of Clearwater, FL is the premier studio in the Southeast for Kundalini Yoga Teacher Training.  Now in its sixth year of trainings, the studio offers Kundalini Yoga as Taught by Yogi Bhajan®, a ten-month/eleven-weekend course that is certified by the Kundalini Research Institute.  At the end of the training, students qualify for a Yoga Alliance 200-hour course to become a Registered Yoga Teacher (RYT).
Yoga Village's Kundalini Yoga Teacher Training is for students who would like to learn more about Kundalini Yoga either to become a teacher or simply to deepen their own knowledge, practice and understanding of Kundalini Yoga.
In this transformational course, students will learn:
The philosophical foundation of Kundalini Yoga
How to use kriyas (exercises), sound, meditation and the breath to awaken the mind and strengthen the body
Yogic and Western anatomy
To develop a meditative mind for clarity and calmness
The basics of yogic foods and dietary awareness
The benefits of and practical ways to create a daily home practice
Training includes:
Becoming a Member of Yoga Village, giving students unlimited access to all classes (valued at over $700)
Textbook, workbook, and notebook/binder
Vegetarian lunch each training day
Yoga Village is just a few miles from award-winning beaches on the Gulf of Mexico.  The famous Safety Harbor Hotel and Spa are just minutes from the studio, and the cities of Tampa and St. Pete are within an easy drive.  Beautiful parks are woven throughout our community and the Pinellas Trail offers a paved trail for walkers, bikers, joggers and rollerbladers.
To learn more visit Yoga Village
Resources & Information On Kundalini Yoga Training
What is the history of Kundalini yoga?
Kundalini Yoga's origins are somewhat mysterious in nature, and while Kundalini was acknowledged in ancient Vedic texts, it became more popularized in the West by several people, among them Sir John Woodruffe, author of The Serpent Power; Carl Jung, who presented a seminar on Kundalini in 1932; Gopi Krishna, author of the autobiography Kundalini: The Evolutionary Energy in Man; and Yogi Bhajan, who founded the first Kundalini Institute in the US in 1969. Kundalini literally means "coiled," and the Kundalini energy resides at the base of the spine, coiled like a serpent.
What separates Kundalini Yoga from other styles?
Kundalini Yoga practice is centered on the idea of awakening the Kundalini force, which resides coiled in the sacrum, and allowing this energy to travel up the spine and chakras until the practitioner achieves a state of oneness with the divine. To prepare the body for this awakening, a student is trained in meditation, chants, repetitive sets of movements, and pranayama. Asana work is limited and traditional Kundalini practitioners use sheepskin rugs or blankets rather than Yoga mats.
What percentage of Yoga schools teach Kundalini yoga?
Currently approximately 1% of Yoga Alliance's registered US schools teach in the Kundalini tradition.
What are Kundalini yoga teacher trainings like?
Expect to delve deeply into the Kundalini method as well as into the self, as Kundalini Yoga can be intense both mentally and physically. Expect to travel to one of Yogi Bhajan's schools or affiliates.
Please check back periodically as we will be updating this page with more Kundalini yoga teacher training programs.
Are you interested in becoming a yoga teacher? Then visit our Yoga School Directory to find the right teacher training. Or, visit our Yoga Retreats page to explore beautiful yoga vacations from around the world.