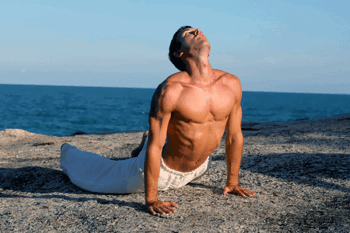 Konstantin Miachin (RYT-500, E-RYT 200) is the founder of Vikasa Yoga in Koh Samui, Thailand. Kosta's six years of worldly experience have led to deeper understanding of yoga as a personal journey and spiritual evolution. On his journey he trekked through the Himalayan mountains, meditated with the Burmese monks, trained in a Muay Thai Boxing camp, got lost in the jungles of Laos, was tattooed by the master monk in North-East Thailand, practiced yoga everywhere, and found his true passion here in Koh Samui, Thailand. Along the way, Kosta has undergone extensive yoga teacher trainings in fields of asana, pranayama, anatomy, physiology and indian philosophy, and is certified in 4 different schools of yoga at the moment, namely Sivananda, Ashtanga, Anahata Yoga and, the most influential – Yoga 23, by master Andrei Siderski. This combined knowledge has allowed him to found the Vikasa Yoga school, and lead this upcoming teacher training.
What is yoga to you?
To me yoga is everything, in my understanding there isn't a thing that is not yoga. It's a natural state of being… and then there are yoga exercises which will reveal to you where you are resisting to understand that, and help you realize you have been one with the rest of the universe all along.
What inspired you to become a yoga teacher and with whom have you done your trainings?
I did not really make a decision to become a yoga teacher. After my first teacher training, I took some time off to travel, and came back to Koh Samui, which I greatly missed since the last time I was there, and the next day I arrived, I went to a yoga class, and was noticed by the teacher, then we talked and she offered me to take some private lessons, and then to teach a few classes a week on a regular basis. At this time I did not plan to become a yoga teacher, but soon I realized that's what I was good at, and that's what I should do… After this I struggled for some time to make any breakthroughs, the path was rough, with many ups and downs, disappointments and inquiries, and many times I almost gave up on this, trying to make a living, but I kept trying and eventually everything fell into place. Now I am living my dream! 🙂
What have been some of the biggest challenges in developing your teaching career and how did you overcome them?
The biggest challenges were to make it financially as a beginning teacher. The problem in Koh Samui is that it is very seasonal, so during the peak season I was overwhelmed with work, and during low season it was absent… so I was either overworked and exhausted, or left with no work at all. But I used the off time to train more, and do more trainings to become a better teacher. Now I understand that the challenges were exactly what made me who I am, and allowed to develop in every way.
As the director of your schools teacher training programs, what is your overall goal and objective?
It is very simple, I want my students, every one of them, to find their own way. I want to give them the tools for self-discovery, development and evolution – physical and spiritual.
The goal is to give the understanding and insight into practice and teaching, allowing the student/teacher to become independent and creative, think outside the box and not just go by the book.
What do you feel is unique about your yoga teacher training programs versus other schools?
Well, the emphasis of our training is on staying open minded experimenting and finding better solutions through practice, rather than finalizing everything and saying this is the way it should be, and our way is the only one. So I would say our approach is very anti-dogmatic, and dynamic. For this purpose the course is taught by 5 different teachers from completely different backgrounds, then the stereotypes get broken, and the student realises there are many different paths one can take. If I had to describe it in three words, they would be: unconventional, challenging, fun!
What type of students would best fit your programs?
I accept and treat all equally! Not everyone takes the program to become a teacher, many will take it for deeper understanding of the subject. Our programs will suit both!
What qualities do you feel make a good yoga teacher?
Open mind, sense of humor, understanding of the subject, dedication to practice, creativity and willingness to help others find their own way, rather then an egoistic attempt to make students dependent on a certain teacher or school.
Is there any advice you would offer to aspiring yoga teachers?
Plenty! 🙂
To learn more about his school please visit Vikasa Yoga