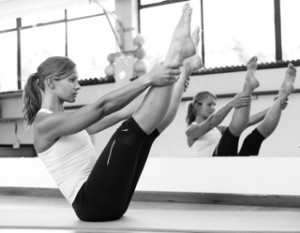 I love exercise.  I love teaching.  I love learning. So I guess in a nutshell I'm totally passionate about teaching others and sharing my learning experiences with them.
There are many reasons why I want to become a yoga teacher; some of it is for personal gain whilst other reasons are to add value and another dimension to the clients I already teach/train through my Pilates and personal training.
For personal reasons… I did quite a lot of yoga whilst travelling a few years back and since then it has always caught my interest in wanting to learn more.  Obviously the physical side of it is just amazing, I love the movements and appreciate how dedicated practice will get you into poses you never thought possible.  But more than that, I want to learn more about Eastern philosophies and meditation, how to be still and experience what I've so often read about as 'the yogic lifestyle'.  I have never walked out of a yoga class not feeling 'totally wow', refreshed, rejuvenated and relaxed; and I do believe that that is achieved by connecting mind-body and soul during practice.
My first yoga teacher had me sold.  Not just in the first session but throughout the year that I was privileged enough to practice with him, which is something I will always cherish.  His name is Ian (unfortunately I can't remember his full name), he taught Hatha and Ashtanga all around London, and I would go to his classes in Wimbledon.  Being a very sporty, but incredibly stiff and inflexible person, I was quite apprehensive about whether or not I would make a fool of myself or even just be able to do half the things I imagined, let alone some contortionist pictures in my mind of a 'pretzel' or the 'Scorpion'.
From the start of the class, and throughout my journey with him, he taught me it wasn't about whether or not you could do each thing perfectly and get it first time, but through patience with self and just letting yourself be, that it was more about the journey to achieving the pose then the actual pose itself.  I know it sounds like such a trivial or cliché thing but for me, being a Type A personality, always driven to get to my goal by the quickest, most aggressive way, he taught me that yes, you will get to your goal but it's not what you do that's important, but how you do it and how you feel when doing it, that counts.
I would love to be given the opportunity to learn through Tribe Yoga, particularly their 200hr yoga teacher training course offered at Whispering Lakes in Goa, India. Exploring India and Goa in particular, has always been on my wish list. To experience everything from the food, the people, the vibrant colours and celebrations, the music, dance and the way they live with such a strong sense of community has interested me for a very long time.  In saying that, a good friend of mine had recently done a yoga course with Tribe Yoga, in Goa, and she strongly recommended I go.  On doing some research into what Tribe had to offer, was like reading what 'my dream school' would be; as the content, the pitch, the attitude, the place and the outlook of what Tribe yoga hopes to achieve, is everything I've been looking for in a yoga school.
To answer your final question of how I plan to make an impact on the world as a yoga teacher is a bit of a tough one.  To say I hope to achieve world peace would be false, but to say that if I can achieve balance in my own life physically, emotionally and spiritually, I do believe I will be able to inspire and motivate those that I teach to experience the same.  How I see it is…. Yoga  →  Balance (between mind, body and soul) → Love (love for self, love for others and love for all that is around us)  → Togetherness (in friendships, relationships and life partners) → Personal Growth J
2012 Yoga Scholarship Essay
By: Katherine Schoombee
If you liked this article and want them to win a free yoga teacher training, then make sure to vote for her by leaving a comment (scroll all the way to the bottom), and sharing this article on Facebook or Twitter. Each comment, Facebook, and Twitter share counts as one vote and you can do all three!
Are you interested in becoming a yoga teacher? Then visit our Yoga School Directory to find the right teacher training. Or, visit our Yoga Retreats page to explore beautiful yoga vacations from around the world.