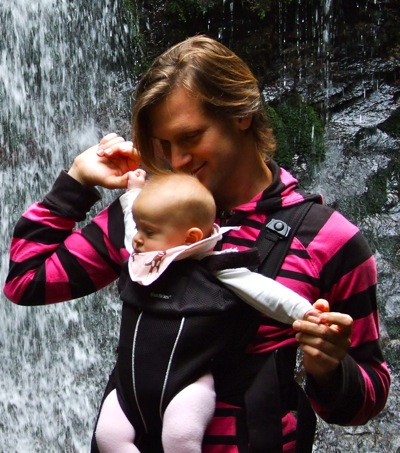 Gopala has been teaching Yoga for children and adults, as well as meditation and Yoga philosophy, since 1995. He was a monk in the Sivananda Yoga Centers in Israel and the Bahamas for ten years, from 1994-2004.
In addition to his Yoga certifications, Gopala is also an ordained Interfaith minister, a Reiki Master, and he's also certified in Thai Yoga Massage. He has studied healing through Tibetan bowls, as well as Acro Yoga and Circus Yoga.
In 2007, Gopala and Katya founded the studio Yoga LeShalom (Hebrew for "Yoga for Peace") in Tel Aviv, Gopala's hometown.
Yoga LeShalom is a studio for the whole family, where the daily schedule included Drop-in Yoga classes for adults, Yoga for kids, Ma and Baby, and Family Yoga.
That same year, Gopala began focusing on training Yoga teachers for kids, and Rainbow Kids Yoga was born! Seeing the need to bring all of this fun to adults as well, Gopala founded Sun Moon Partner Yoga in 2009, to train Partner Yoga teachers and to enrich the Yoga world with his concept of Community Yoga.
In 2010, Gopala created our unique 200 Hour Teacher Training, focusing on Family and Community Yoga, and is the director and head teacher trainer. Today, Gopala keeps training Yoga teachers and directing family Yoga holidays worldwide, while writing books and traveling with Angel, his partner, and their three children, Emily, Oliver and Delphin. Graduates as "magical", "inspiring", "transformative", and "an unforgettable journey" have applauded his playful, patient and warm teaching style.
What is yoga to you?
Yoga is connections. Yoga is being connected to yourself; knowing where you come from, who you are and what you want from this life. Yoga is connecting your mind with your body; being present. Yoga is connecting to the people around you, your family and friends, the people you do yoga with, your co-workers and even to strangers.
Yoga is realizing that we are not so far from each other, not so separate, not so different… yoga is getting closer and closer and closer. Yoga is Love.
How do you see yoga evolving in the next 5 – 10 years?
Yoga is just going to become more free and crazier… But yoga is much more than yoga… it is about finding our way to live in peace again, with ourselves and then also with the world around us.
And there are so many things are much more important than yoga… being happy is more important than yoga, being nice to people is more important than yoga, being true to who you are and what you want without fear is more important than yoga… yet, it is all yoga of course.
So I see yoga evolving into something that is more integrated with life and that is not reserved to yoga classes or ashrams.
So evolving in some ways, by letting go of all of the limitations and rules that have accumulated in it in the many generations of its existence, but devolving in other ways – becoming again a simple way to just live your life all connected.
What inspired you to become a yoga teacher and with whom have you done your trainings?
My first experience with yoga was inspired by my music practice. I used to be full on into and intensely dedicated to playing both classical music and heavy metal (I was playing with my rock band in night clubs in my very early teens)… sounds like a contradiction but it worked well for me. First, music was already a meditation for me, my yoga for sure. Second, when I was 12, one of my music teachers (on the classical end of things) introduced me to some yogic practices to help me focus before performances.
From there I continued to take interest in both Eastern music and other Eastern practices like yoga and meditation, and when I was 16 I ran away from home and school and went to India, was a monk for 10 years and now a happy family man  living in the country with my beautiful wife and 4 kids! …You don't expect me to tell my whole life story here, right?
My first trainings were with the Sivananda organization, and I was dedicated to my Guru there… but the biggest lesson I learnt from my teacher was to trust myself.
No one knows more about you, what you need and what you should do or not, than you know about yourself. Trust yourself, your instincts, your heart… but maybe it does takes 10 years as a monk to be able to listen and trust yourself.
My teachings now are soooooooooooooooooo remote from anything Sivananda… but maybe they still are, just unveiled to expose my view on life.
What have been some of the biggest challenges in developing your teaching career and how did you overcome them?
My biggest challenge came more in the last few years, as my family grew and I had to find ways to juggle it all at the same time… a fast growing and super fun and super international yoga business I created from scratch, a beautiful woman (Angel ;-)) to walk the path with and the increasingly and overwhelmingly growing number of my children that I just want to play and cuddle with all of the time… but than there never seems to be enough time.
Time… that's the problem. There is just not enough of it.
Well… solution… there is only one way (that I could find) to deal with it: do one thing at a time. Do it the best you can, and whatever it is, enjoy it to the fullest!
As the director of your schools teacher training programs, what is your overall goal and objective?
To teach people to be like kids again; not to be so serious and take joy in all of the little things of life. Basically, appreciate life, play, thrive, be happy and light and have lots of fun with all the people you love!
If you can live it yourself, you'll be the best teacher in the universe!
Words are not worth much… we don't learn a lot from what we are told… but living it yourself, you'll inspire your students to explore and live life in this light and enlightened way!
So just be yourself, don't think too much about why and what, just open your heart and let it sing with joy! Then teaching and playing yoga with all of the kids and the grownups you meet will be just an extension of who you are.
What do you feel is unique about your yoga teacher training programs versus other schools? Please tell us about your program.
We don't talk much… we learn through playing and experiencing. Our programs are here mainly to remind you how it was to be a child and to teach from this place.
Most grownups have forgotten how it was to be a kid, therefore they expect kids to behave and listen and learn like adults do… well, they are in for  a big disappointment.
Grownups appreciate long intellectual lectures (or at least they pretend they do so they can look smart) and big complicated words (in Sanskrit for example)… but the truth is, that the more you can simplify things and the more you can teach people in a way that they absorb and understand, the smarter you are and the better teacher you'll be.
So we teach you how to play, how to have fun, how to make yoga fun! …yoga can be so boring… really, if it's not fun for you and if it doesn't  make you happy don't do it! Find a way to make yoga something you can't wait to do again!
One of the main ways we teach to do it is by adding tons of interaction to the class. So we don't do yoga just on our own (that's boring), we always do it TOGETHER by interacting in the poses and doing them in pairs and groups and always finding a way to include everyone and co-create the class.
What type of students would best fit your programs?
Anyone who is courageous enough to challenge his or her belief about yoga… and about everything.
And anyone who loves children and wants to have fun! …How on earth did we forgot to have fun?! So yoga teachers, educators, child workers, parents, dogs, circus animals and YOU!
What qualities do you feel make a good yoga teacher?
Creative, unique, light hearted, kind and generous, supportive, funky… crazy (the good crazy)!
Is there any advice you would offer to aspiring yoga teachers?
Don't be so serious 😉 and be nice to everyone.
To learn more about his school visit Rainbow Kids Yoga