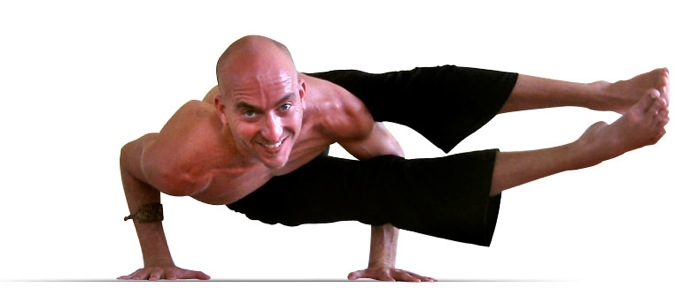 Yoga Master Fred Busch is a dedicated practitioner who first reached international acclaim with the publishing of his holistic health-care book, A Clear and Definite Path.  Since his arrival into the healing arts, he has developed a transformative system and specific style of that inspires and invigorates each student.   His unique approach to yogic lifestyle correctly lays the foundation for the beginner and refines the more adept creating an environment able to satisfy diverse needs, intentions, and levels of practice.  Fred seamlessly navigates large classes at his home studio, yet individually touches the heart of all who come.  Twenty years of meditation and yoga practice have culminated in Fred Busch's Healing Sequences, an expression of Yoga that creates a healing environment for students with injuries or individual requirements. One pointed attention, a deep spiritual essence, application of 'healing sequences' and a vast holistic knowledge of healthy eating are the tools of this healing artist as he untiringly devotes himself to training others be leaders on a path towards a healthy planet with healthy people, now.
Fred is also author of The Lower Back Bible – The Yoga Solution for a Pain Free You and has produced many DVDs and Audio CD's on Yoga, Meditation, and Yoga Philosophy.
What is yoga to you?
To me yoga is a means to use awareness in all aspects of our lives to improve the quality of our life in the present moment.   While generally classical yoga is about meditation and penetrating through the obstacles to self realization, in the West we have incorporated a lot of what is considered the Tantric aspect of Yoga.  For me Yoga is a path of evolving and getting stronger and I consider the western approach of merging Tantra (yoga Asana, pranayama, visualizations etc) with the Patanjali approach of the mind to be the ideal practice as this addresses the entire being and in my experience is positively transformational.
How do you see yoga evolving in the next 5 – 10 years?
I see more and more movement towards Hot Vinyasa Yoga as this offers a huge array of benefits.  I see more people getting interested in the connection between their diet and their yoga practice.  There is such an acceleration of learning going on all around us now and i see yoga continuing to grow all over the world.  My hope is that yoga is able to reach populations of people that are under-served at the moment like War Veterans and less affluent populations.
What inspired you to become a yoga teacher and with whom have you done your trainings?
I was inspired to start yoga asana after a near death experience while travelling in Africa in 1998.  After recovering I found yoga and started practicing everyday.   As a practicing Yogi i attended a full time Massage Therapy School and started teaching all my classmates what i was doing.  I found that due to my background as a practitioner, my capacity to do body work and massage therapy with my hands, and my ability to communicate all merged together and i found that i was pretty good at teaching yoga.  So then i entered an official Yoga Alliance Teacher Training Course and began my career as a full time Yogi.   I have studied under many masters but i would consider the following masters to be most influential in my teaching and teacher trainings:
Ryan Spielman – my childhood friend and first yoga teacher
Sri Dharma Mitra – Devotion and Yoga Asana
Rod Stryker – Tantra, Philosophy, Pranayama and Yoga Asana
Duncan Wong – Attitude, Power, Martial Arts and Yoga
Tias Little – Alignment and Anatomy
Gaia Buddhai – Living the life of a Yogi
Manorama – Sanskrit
Gary Kraftsow – Lineage of Krishnamachrya
What have been some of the biggest challenges in developing your teaching career and how did you overcome them?
Developing a teaching career is challenging.  For me the challenge came naturally as what is required is hard work and i am happy to work hard when i know i am doing good or helping people.  Like anything else often there are setbacks and sometimes we make mistakes, but the most important thing is to not take things personally and to always keep practicing our practice and doing our best.  All challenges in our life are simply opportunities to get stronger.
As the director of your schools teacher training programs, what is your overall goal and objective?
My overall objectives as director of teacher training are to create a program that:
– provides a structure and curriculum for students to experience living a Yogic life
– prepares students to teach a safe and challenging hot yoga or power yoga class..
–  offers a very well rounded certification so that students are able to be effective in teaching yoga philosophy, meditation, pranayama, and even enlightenment as well as great Power Vinyasa Yoga.
– gives students exposure to the sacred mantras of  India
– is strongly based in Anatomy, Yoga Therapy, Healing Sequences, Massage Training,
– is a means for students to improve their own yoga skills and get stronger in Yoga Asana
Overall our goal is to create a life transformational professional training program.
What do you feel is unique about your yoga teacher training programs versus other schools? Please tell us about your program.
Fred Busch Power Yoga Teacher Training is unique because:
– We are heavily focused on safety and only the intelligent application of yoga poses to students who are ready for them.
– We emphasize the importance of a teacher not teaching from ego.
– Fred Busch is the founder and director of The American Nutrition Institute and delivers during the teacher training a potent lecture called "The Fred Busch Famous Food Talk"
– We instruct the Sanskrit Alphabet and the real correct pronunciation of the Sacred Mantras
– We are strongly focused on Yoga Therapy and healing injuries of all kind.  Students in our program will learn first hand how to address back-pain in Yoga from the foremost expert in the world. Fred Busch is the author of two books on Yoga and Health, including The Lower Back Bible.
– Our program is 28 Days Intensive.  This intensive program is the best platform to make a permanent transformation as it embeds the skills and positive patterns needed to live a life in a yogic style.
– I have seen the results on students faces that they all look much much younger after about 10 days of the training.  Due to some dietary suggestions and the daily practice students in the program all report that they have never felt so good
What type of students would best fit your programs?
-Those who want to become professional yoga teachers.
-Those who have 200 hours already and want to get a 500 hour training and focus on deeper aspects of yoga.
-Those who want to take a teacher training so that they learn more about yoga for their personal practice without any intention of teaching.
What qualities do you feel make a good yoga teacher?
– True unconditional love and care for students.
– Eating like a Yogi
-Intelligently applying the Yoga individually to students
– Practicing EVERY DAY
– Living with awareness
-Experiencing compassion and forgiveness
– Being Established in gratitude
Is there any advice you would offer to aspiring yoga teachers?
Most important thing is your personal practice.  From your practice you will teach. Teach as much as you can and get as much experience teaching for the first few years as possible.  Nothing can take the place of experience.  And never stop studying and never stop taking trainings.  Personally i consider myself to be a good teacher only because i am an even better student.
To learn more about his school please visit Fred Busch Power Yoga.