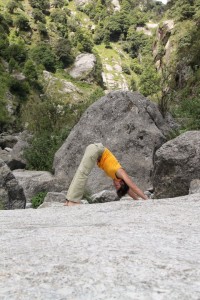 Today is the 18th of November, the last and final day I can apply for this Yoga Teacher Training Scholarship. Luckily a time difference of 17 hours means that I actually have until 7 am tomorrow. Wow. That took up another 8 minutes of procrastination to figure out. Maths has never been my strong point. In fact, many things have never been my strong point. Until I discovered yoga I thought the only practical strengths I possessed were 'my exacting logistical capabilities and confidant manner with people from all walks of life'.  I had never considered my connection to spirit to be a strength, that is, until I found yoga.
A dissatisfaction was ever present within me, the desire to be creative, to be expressive, to be… happy…took a hold of me as my practice unfolded. I was being released from within, a pathway was lit, and it headed firmly away from the empty life I had constructed from building blocks of ego and achievement. By relinquishing my firm grip on the (apparently) sensible direction of my life, I have moved closer and closer towards a dream whose shape I can not fathom, but whose beauty radiates, guiding me forward.
Experiencing my first full immersion into yoga at a retreat solidified my goals, and I began to follow the rainbow of my heart. As the years go by my practice evolves, and my learning deepens, and my yearning to share this gift with others grows. Each and every teacher I have had has taught me unforgettable lessons, even those who didn't resonate with me have given me lessons in acceptance, in boundaries, in humor.
However, my hearts' sense of direction seems to be as circuitous as my navigational ability. The last few years of my life have been led by my quest to listen to my hearts desire, to make decisions based on intuition, trust- absolute trust in my connection to the cosmic consciousness that guides me.
The experience I had with Agama for two months in India was the most challenging, cleansing time of my life. I surrendered completely, and was rewarded with the gift of seeing my years of learning fall into place, a sense of totality filled me. I am a woman of dualities, I oscillate between peace and excitement, my cravings for adventure compete with my desire for stability, and often result in an inability to save towards long-term goals. And so I place my dream in your hands friends, to nurture or ignore as you feel inclined. I don't think I am able in words to 'prove' my spiritual credentials or express all I have learned, so I must simply trust that you have all Seen me for who I am.
The creative potential within me shall finally be released, and all I can hope is to bestow the gift of love that yoga has given me, onto all those who seeks its' freedom.
In yoga I have found the most eloquent, beautiful, poetic description of my lifelong, ever-evolving understanding of love, life, the universe, and my meaning. Yoga has given me the confidence in my own buddhahood, it has awoken the goddess within me, ignited the flame of adoration for life and given me a language for all that I experience. Within yoga I find my peace, my strength, my motivation and courage. I am constantly learning to trust myself, trust in the universe, trust in others. I am following the rainbow of my heart. So mote it be peeps. So mote it be! Blessed Be.
SO! 'Vote' for me by doing each or all of the below. Please pass on to all your friends if they will support me too, as I need all the votes I can get to win this opportunity.
Leaving a comment on my article
Tweeting my article
"Like" my article on Facebook
Many Thanks, Love, and Light,
2012 Yoga Scholarship Essay
By: Kirsty Thompson
If you liked this article and want them to win a free yoga teacher training, then make sure to vote for her by leaving a comment (scroll all the way to the bottom), and sharing this article on Facebook or Twitter. Each comment, Facebook, and Twitter share counts as one vote and you can do all three!
Are you interested in becoming a yoga teacher? Then visit our Yoga School Directory to find the right teacher training. Or, visit our Yoga Retreats page to explore beautiful yoga vacations from around the world.