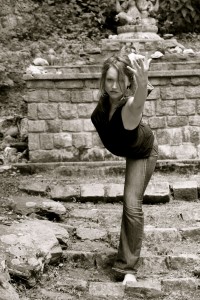 I spent the last year in a Karma Yoga program which gave me time to reflect and to study with great yoga teachers.  I want to become a yoga instructor because over the last ten years as my practice has deepened I  gained a tremendous insight into how to self soothe, to maintain my equilibrium and gain an understanding of returning to the present moment. I am not always in the present moment but yoga has given me a road map and tools to return from my head and be present again. David Swenson is the teacher who has been most influential on my current practice. I have studied with him three times and each time I gain more insight into the power of yoga.  His teaching has helped me become established in living my life from a place of kindness and a daily practice of hard work on the mat.  I have chosen Doug Swenson because I currently practice the ashtanga vinyasa system. For my 200 hour yoga teacher training I want to learn to teach vinyasa yoga. I appreciate a vigorous and challenging flow in class, because for me it engenders mindfulness and a meaningful connection to my innermost kosha.  I want to cultivate the ability to help students burn brightly, self soothe and realize everything is already okay.
I have chosen the school of Sadhana Yoga Chi Doug Swenson because his younger brother, David Swenson, was my first Ashtanga Vinyasa teacher. David is a very inspirational teacher and a joy to be around.  One of his best qualities is the sane and rational approach he has to yoga and life. He demystifies a complex and esoteric discipline with humor and emphasizes having a daily practice. He is a big proponent of working with where you are and not letting yourself off the hook when your mind begins to act up and chatter at you.  In a workshop I took called the Ashtanga Mela he spoke of his first teacher being his older brother Doug.  He speaks very highly of his brother.
When this scholarship opportunity arose and I saw that Doug's school was an option I jumped at the chance to study with him. The ashtanga vinyasa system is my core practice, but I am also a practioner of yoga nidra, yin yoga and Iyengar yoga among others.  I have spent years of my life immersed in the study of yoga and not just asana.  Doug's program is a holistic approach to yoga and I appreciate this because the sort of teacher I want to be will use a broad range of information to help students. I do not want to be a dogmatic teacher saying yoga  "must" or "should" be a certain way.  I believe it is very important to bring a breadth of information to class. I appreciate that his program is tailored to the experience of the student. Doug's program includes a section on Karma yoga, which I believe to an essential part of the yogic evolution process. I participated in a Karma Yoga program in which I chopped vegetables in an organic kitchen at a retreat center for 8 months and washed dishes for 4 months. This year of service, or seva, taught me a great deal about surrender and community and gave me a greater appreciation for who I am at the core of my being. I was able to break through much of my conditioning to embrace myself and my life without getting tangled up in the concepts of how I "should" live my life.
I currently work for a yoga studio as a Programs Assistant.   I have been deeply immersed in self study for more than 10 years, including a Bachelors degree from a prestigious art school.  I am primed for being an excellent creative yoga teacher. I have traveled the world; I am capable of speaking to new people and putting them at ease.  I truly believe that to survive the 21st century we need to build community where we live, in our streets and neighborhoods. As a culture we need to strive to be welcoming and loving. I want to help people self soothe, alleviate even for a single breath the chatter in their heads and help them to find a way to live in harmony with their own personal version of reality.
2012 Yoga Scholarship Essay
By: Kerry Hugins
If you liked this article and want them to win a free yoga teacher training, then make sure to vote for her by leaving a comment (scroll all the way to the bottom), and sharing this article on Facebook or Twitter. Each comment, Facebook, and Twitter share counts as one vote and you can do all three!
Are you interested in becoming a yoga teacher? Then visit our Yoga School Directory to find the right teacher training. Or, visit our Yoga Retreats page to explore beautiful yoga vacations from around the world.