Recommended Reading: Fierce Medicine by Ana Forrest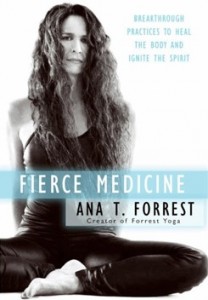 In this review of Fierce Medicine by Ana Forrest, yoga instructor Leah McKellop offers "An Honest Guide For the Brave Yogi." In any yoga teacher training, there will be some required reading. While this book may not be mandatory, it is definitely worth taking a look as Ana Forrest is one of the preminent teachers here in the US.
Fierce Medicine Review
Ana Forrest has recently created a number of Yoga demonstrations, including one as the centerpiece of a fundraiser for yogaHOPE, which supports women going through alcoholism, drug addiction and domestic and sexual abuse.  I you-tubed her demonstrations one weekend, and ended up glued to my computer in awe until I had watched them all completely.  Her practice is stunning.  Over and over she goes into one arm balance variation after another.  At the same time her body is so incredibly open that it appears she has had to create her own stretch variations to even feel anything.  We all love to see a thrilling handstand lotus posture and even more so from a formerly crippled and paralyzed woman in her fifties.  But what entices me most about Ana is her raw, no-nonsense approach to her practice.
Undoubtedly, her recently released book Fierce Medicine is a raw depiction of the yogic path.  That's not to say that it is not blisteringly beautiful, as it exposes yoga's true nature as a path to healing and spiritual introspection.  The book unfolds much the same way that one of Ana's yoga classes might.  The structure weaves from Ana's reflections on her life into yoga poses or meditations that have helped her grow through those experiences.  Whether you are blossoming yoga teacher or a veteran, these exercises are powerful tools for finding your own voice as a teacher and in the processes uncovering spiritual freedom.
Anna Forest As A Writer and Teacher
Just as her Yoga Asana demos suggest, Ana is all about taking action and persevering through the struggle.  In that vain, she has written an extremely interactive book to get you up and going.  If you were planning to hunker down in your bed to read this book, you probably want to trade that plan for some yoga clothes and a notebook.  There are sections of guided meditation, self-reflection (yours as well as hers) and a whole lot of questions that need to be answered.  The yoga poses that she has chosen to include are familiar, but there is a novelty in the way she presents each pose in conjunction to emotional release and the healing it invokes.  She remembers herself as a young teacher, feeling amazed at her students as they burst into unexplained tears after staying in a pose long enough. As teachers this can be a confusing and sometimes frightening experience.   Well here are the answers to our confusion after three decades of study on Ana's part.  She writes, "We've been conditioned not to tap in to our body's wisdom, but we absolutely must.
After a while, the body will begin to respond."  As a teacher this information is golden.  Plus, this emotional storage is happening in our own bodies as well.  Ana encourages us to really take a good look at what we are holding and see if there's anything that needs to be left behind.  Just see what happens when you surrender yourself and breath into camel pose for a while, or when you allow yourself to finally relax and speak the truth about something you have been holding in.  Find your voice.
Fierce Medicine Is Not For the Lazy Reader
This book is work.  There's no doubt about it.  And even though we yogis might be very open to physical work and persevering though our practice, that always seems to be the easy warm up compared to opening up emotionally or spiritually.  Be prepared for Ana's openness as she takes you through a vivid childhood of abuse and subsequent life struggle.  Putting these experiences out so openly on the table is a central aspect to her approach of self-healing.  You too may be moved to put some of your baggage out there, though as Ana repeatedly says, 'See a therapist" if you really are weighed down by these experiences.
Ana's voice remains compassionate towards her students as she guides us through opening up.  But there is no question that she is a tough cookie.  She has fittingly chosen Kali, Hindu goddess of destruction and eternal energy as her healing partner.  She wryly admits that her choice  "might be frowned upon by some in the Yoga world, where one of the most sacred principles is ahimsa, the vow of nonviolence, the pledge to do no injury to sentient beings. But I've never taken that vow; that's not how I roll. I am so not a turn-your-cheek person. (This is why those nice Jainists never invite me to their picnics.)"  At times, Ana will have you laughing with her brutal honesty.  There are cameos from a number of known Yogis and Ana does not waste her time sugarcoating her opinions about them.  Always pushing buttons, Ana open her book"…although I studied Yoga with B.K.S. Iyengar himself, the most important lesson I learned from him was to disobey the dictator if you don't find a man's character congruent with his teachings."
For those curious about taking a yoga instructor training, this book gives a great feel for Ana's teacher training and teacher trainings in general.  She even includes some exercises from her training group, though it is important to understand that reading an exercise from a book is not the same as experiencing them in a group with a teacher there to guide you.   This is a book to keep with you and reread throughout the evolution of your yoga practice, spiritual practice and growth as teacher.  Apparently there is something for all of us to learn from one woman's struggles.
By: Leah McKellop
Make sure to friend us on Facebook or follow us on Twitter to stay up to date with new articles offering guidance on how to teach yoga.
——————————————————————————————————————————————————————————————–
Useful Links
Table Of Contents – Visit our table of contents if you are looking for tips on what to look for in a teacher training, how to teach yoga effectively, or how to become a successful yoga teacher? We have hundreds of articles that support aspiring yoga teachers.
Yoga Teacher Training Schools – Are you interested in becoming a yoga teacher and taking a yoga teacher training? Then check out our list of schools from around the world offering yoga certification programs.
Yoga Teacher Training Scholarship – Learn more about our scholarship program where we offer one lucky student the opportunity to win a free yoga teacher training.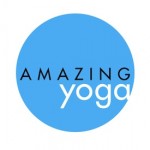 Amazing Yoga – Power Vinyasa Yoga Teacher Training with Amazing Yoga is an incredible opportunity to learn how to facilitate transformation—physical, mental, and spiritual.  You will leave the training radiating and filled with confidence and joy.  Whether you aspire to teach, are an experienced teacher or simply want to deepen your practice, this training will empower you. Our trainings are held in exotic locations such as Tulum, Mexico and Costa Rica.  Get ready for a full immersion into yoga at the most peaceful and magical places you can imagine. Click here to learn more about Amazing Yoga Teacher Training
Are you interested in becoming a yoga teacher? Then visit our Yoga School Directory to find the right teacher training. Or, visit our Yoga Retreats page to explore beautiful yoga vacations from around the world.