Doug Swenson Offers Guidance For Aspiring Yoga Teachers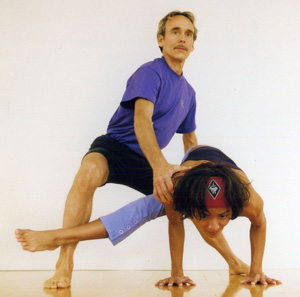 Doug Swenson began his study of yoga in 1963, when yoga practice in most areas – was considered to be weird and uncool. Doug has had the fortune of studying with many great teachers including – Dr. Ernest Wood, K. Pattabhi Jois, Ramanand Patel, and many others.  Doug's unique approach to yoga has evolved into a holistic presentation – to include all aspects of a productive life, including enhanced nutrition, and cross training.
Doug is a master yoga practitioner, philosopher, writer and dedicated health advocate. Over the last three decades, he has incorporated influences from several different yoga systems along with his passion for nutrition and the environment to develop his own unique style of  "Sadhana Yoga Chi ". Doug is the author of several books; "Yoga Helps", "The Diet That Loves You Most", "Power Yoga for Dummies" and his latest release -"Mastering the Secrets of Yoga Flow".
Since 2002, Doug has been a Registered Yoga Teacher with the National Yoga Alliance, now rated (E-RYT 500). The demand for his yoga teaching has led to extensive travel, teaching workshops, retreats and teacher training courses around the world. Don't miss the opportunity to study with one of the world's top instructors. Doug's classes are always invigorating and inspirational, plus his supportive style of teaching and keen sense of humor send his student's home with a smile on their face and softness in their heart.
What is yoga to you?
For me yoga is more than just; stretching, gaining strength and reading spiritual books –
Yoga is a path to create conscious awareness in all of life. To find Awareness with your presence in daily life, to see clearly when; working, studying, playing, and communication with friends and family, this is Yoga.
Yoga is the precise sense of awareness – an internal practice with external results – energy, and experiences you manifest in yoga practice, becomes your life. Humans should learn to listen to their thoughts, in the way clouds should listen to the wind – as this becomes your path.
What inspired you to become a yoga teacher and with whom have you done your trainings?
I was fortunate enough to be exposed to yoga at a very young age of 13, after my first class I felt different – more relaxed and at peace. My first teacher was Dr. Ernest Wood, a yoga master, who was a member of my family's local church group, the Unitarian Fellowship.
Back in the 1960's – I did not have access to yoga studios, so I practiced on my own in city parks and at home.  In time I enjoyed the benefits of; stress release, self-confidence, mental clarity and a sense of inner peace. One day a few friends were having some problems – so I decided to teach them some yoga, as a result they were extremely grateful – so I was then inspired to become a yoga teacher along my journey in life.
Over the last 40 years, I have since studied with many aspiring teachers of; Sivananda Yoga, Integral Yoga, Iyengar Yoga, and Ashtanga Yoga – as a result finding something of great value in each system, which in time inspired me to create my own system of Sadhana Yoga Chi.
What have been some of the biggest challenges in developing your teaching career and how did you overcome them?
My biggest challenge was in trying to find like-minded souls, this due to practicing yoga and teaching yoga in a time when it was not popular, (the 1960's) and in a very conservative area as well.
The solution was to divert my energy from searching for recognition – toward becoming the light of consciousness and setting a good example in a subtle way.
Plus in early years – I was always struggling with trying to make a living – until I finally gave up on thinking about it and just decided to teach yoga, because it was a worthy cause. Shortly after this, I started making some money and the popularity expanded, until yoga became the mainstream of today.
As the director of your schools teacher training programs, what is your overall goal and objective?
My overall goal would be to help yoga students and teachers to achieve a better quality of life and to fill their own full potential. My goals would include – assisting teachers in embracing integrity, kindness and wisdom as a sacred priceless gift, to share with all.
To educate students in a holistic manor, teach them that a great yoga teacher – should have not just a flexible body, yet a flexible mind as well. To inspire students to expand their own self-esteem, and wisdom – and most of all – to realize we are all teachers and students.
What do you feel is unique about your yoga teacher training programs versus other schools?
A wise man would have to say, we are each a necessary part of a larger puzzle, which is an essential part – to create the vast energy and ideas of Human society. Although I believe, Yoga is much too big for only one system, or style.
My system of Sadhana Yoga Chi – is not just another Teacher Training Program, yet a profound and beautiful recipe for a better life.
This teacher training program, through the avenue of Sadhana Yoga Chi – is a holistic presentation, as we are not bound to one boxed and packaged concept. We believe in creating an environment – in which students may fill their own full potential and become a great teacher – yet reserving their individuality and placing no limits on success.
In conclusion I would like to say – I support and acknowledge the effort and energy of all other yoga schools and systems of practice. In light of this, I believe we each play our individual note – yet in the end – this individual note merges to from a beautiful symphony of the Yoga community.
What type of students would best fit your yoga teacher training programs?
The students who would best fit our program are basically the ones who are breathing and alive at this moment – especially those who have a desire to find their full potential.
To learn more about Doug and his upcoming yoga teacher training programs visit Sadhana Yoga Chi's page on our site.
Also, check out a recent video from Doug on handstands and inversions:
Are you interested in becoming a yoga teacher? Then visit our Yoga School Directory to find the right teacher training. Or, visit our Yoga Retreats page to explore beautiful yoga vacations from around the world.