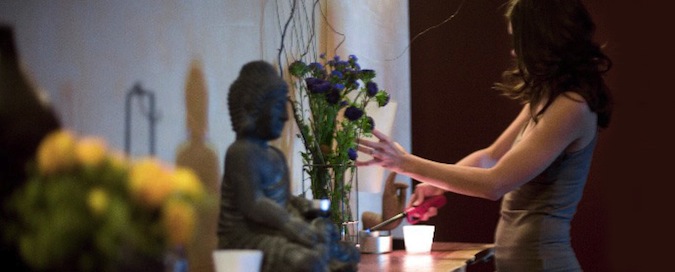 As the founder of Asha Yoga, Cori Martinez has been supporting aspiring yoga teachers for the last twelve years. In this interview she shares some wisdom, joy, and playfulness for those who are sincere about their practice.
Three words that describe me are friendly, reflective and nosy (should I say: curious?)
My perfect meal is healthy and prepared with love by someone else.
I highly recommend forgiveness and time in silence.
I am thankful for a lot. For starters: When my daughter climbs into my bed before the sunrise and goes back to sleep.
I hope for success and peace.
I love dark chocolate with course chunks of sea salt, being near the ocean, and laying in a hammock.
Yoga has taught me a new understanding of God and therefore a sacred appreciation of my life.
I am inspired by the dedication of so many yoga students. Also by the kindness and generosity of others
Three words to describe my teaching style are detailed, fluid and inward (but it does depend on the day!)
Music you might hear in my class Krishna Das, Girish, and Deva Primal chanting. Ziggy Marley and other reggae, Eddie Vedder, Sting, Dispatch, Counting Crows, Cowboy Junkies, plus classical or instrumental guitar or drumming. Lately, a lot of silence
My Yoga experience includes meditation, pranayama, self-inquiry practice, being married, having a child… being human; about 15 years of yoga practice, over 12 years of teaching and now a teacher of teachers.
What is yoga to you?
Often, it's something that keeps me connected. I used to say "connected to my breath, my body, myself and others in my life". Now days I believe it keeps me connected to a higher power, and also keeps me from moving on auto-pilot, reminds me of what's important…which somehow seems to include everything.
Unfortunately, it is also something I sometimes use to feel like a complete and total failure, to make myself entirely not good enough. Though because of my practice, even this somehow turns out to be important and useful and beautiful.
How do you see yoga evolving in the next 5 – 10 years?
I think it reached its climax at "yoga-bootie-ballet". (Just Kidding!)
I think it will stay "trendy" for while longer, which I don't mind at all. Why wouldn't we want something with such profound potential to be "super cool"? More and more people will continue to practice yoga and be surprised to discover there's more to it than a bendy body and a cute pair of yoga pants. BUT WAIT! Don't get me wrong, because I have a bendy body and a lot of cute yoga pants… Personally, over the course of 15 years I went from "Yoga is cool and makes me feel great" to "Yoga is spiritual and expensive yoga pants are ridiculous and materialistic" to "Life is beautiful, in $120 Lululemon pants or something from the thrift store or even Wal-Mart. All of it." I have to say that the last statement is the one that really feels like yoga.
I think people will continue to look and understand more deeply the philosophy of yoga…in a way that makes all of life feel sweet.
What inspired you to become a yoga teacher and with whom have you done your trainings?
Well, what inspired me to teach was: I loved yoga and I though that yoga teachers made $10 per student that showed up to their class, I thought 25 students always just showed up, which meant that I could work 3 hours a day and make a decent living while I figured out what I wanted to do with my life. That was 15 years ago and…ooops. J
The good news is, I have taught full time ever since and even though sometimes it was just like dragging yourself to your own practice when you temporarily forget how amazing it makes you feel, teaching yoga has been an amazing gift. It is the thing I most credit for keeping me "on the path" when I may otherwise have fallen (or jumped) off.  It has also allowed me to see the intensely beautiful experience of being human.  I LOVE teaching yoga and feel soooo blessed for the opportunity.
For 15 years, the study of yoga has been my life. I've had many teachers (some "yogi's" and some NOT); I 've studied many styles and aspects of yoga, the physical body, human psychology, psychology of Yoga, meditation and pranayama. I primarily continue to learn from the students who come to my class.
What have been some of the biggest challenges in developing your teaching career and how did you overcome them?
The number one challenge for me has definitely been self-doubt. Then unrealistic and confused expectations: wanting everyone to love me and be happy with what I offer; wanting to live up to the rules I constructed for Yoga Teachers (and all good people really!)
I wrote this post in my blog, Thread of Spirit, called Being A Yoga Teacher. It expands on the rules I wrote for myself, and others, earlier on in my career.  It's CRAZY the stories we tell ourselves…and it's also no wonder we're a society plagued with depression, guilt and stress!
I overcome these things again and again through my practice: Asana, meditation, pranayama and self-inquiry. I realize again and again that I am part of a beautiful Divine whole and it's only my own resistance to that… (I.e.: when my individual ego thinks it knows BETTER than life itself) that causes me to suffer.
As the director of your schools teacher training programs, what is your overall goal and objective?
I want to train great teachers who understand the depth of yoga and do not simply repeat a script when they "teach". I also want to help people realize the perfection, beauty and sweetness that is right here, right now, in this life, always. I want to sit with people as the light of that realization flickers across their eyes and their whole body softens with the understanding…as happens again and again in this program.
What do you feel is unique about your yoga teacher training programs versus other schools? Please tell us about your program.
This training is very thorough and covers a lot of ground while providing a deep, personal experience that one can draw from as a teacher to make their teaching authentic. Maybe the most unique aspect is my degree in transpersonal psychology and study of the psychology of yoga. Given that it's our own mind that causes the majority (if not all) of our suffering, I think it's an incredible opportunity to understand this aspect of yoga.  Students graduate this program with the knowledge of the body and a lot of newfound clarity about the mind.
What type of students would best fit your programs?
Students in this training are asked to arrive on time, complete all assignments, listen to and seek to understand different points of view, communicate honestly and look within during challenging situations.  That said, this program is geared toward open minded students who are interested in learning a great deal about the system of yoga, and who are prepared to dedicate a lot of time and energy toward their own growth through the process.
This training is not for those who are interesting in teaching yoga as a fitness routine, or for those who want to graduate and start teaching ten classes the following week at the hot power yoga studio in their town. If your goal is to learn a script and graduate as a "rock-star" teacher, this is not the training for you.
6 months to a year of yoga experience is about the minimum requirement (though exceptions can be made). We spend our time diving into challenging concepts, exploring bodies, doing our own in-depth practice of postures, meditation and breath-work, plus sharing and learning from each other's experiences and bodies…so it's really ok if you are fairly new to yoga, as long as your interest and passion for it run deep! 
What qualities do you feel make a good yoga teacher?
My top three favorites are: humility, faith and passion.
Then of course there's stuff like: being a skillful presenter, knowledge of the subject, attention to detail and a sincere smile.
Is there any advice you would offer to aspiring yoga teachers?
Yes. Being a yoga teacher is not about being perfect in the ways you might think. It's ok that you get angry sometimes, hurt, self-defensive and communicate poorly. This doesn't mean you aren't worthy of teaching yoga.
You also don't have to know EVERYTHING and you don't have to be able to do "all the poses".  If you are passionate about yoga and open to learning from ALL the teachers in your life (that means not just yoga teachers but your family, friends, the people in the grocery store, on the freeway, at work, etc.)  you will have a lot to offer. The students that need exactly you will find you.  So breath in the fear and self-doubt that may arise, feel it completely, and then move on. If you want to teach, just do it, don't let fear and self-doubt hold you back.
To learn more about Cori, her school, and upcoming teacher trainings please visit Asha Yoga