A Guide To Ashtanga Yoga Teacher Training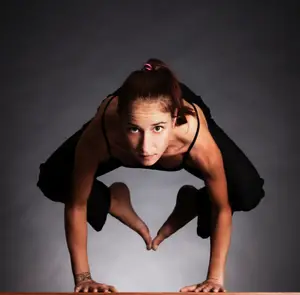 If you are interested in furthering your yoga practice by taking an Ashtanga yoga teacher training, on this page you will find a list of schools offering these programs along with tips on how to become a yoga instructor.
It's Yoga Thailand Ashtanga Teacher Training
Founded by one of yoga's veteran and master teachers Larry Schulze, It's Yoga Thailand continues his teachings in the beautiful and exotic land of Thailand. Lead by master teacher Donovan Hicks, this Yoga Alliance accredited 200-hour Ashtanga yoga teacher training will cover such topics as working with breath in Ashtanga sequences, pranayama and a myriad of breathing techniques, Sanskrit, yoga history and philosophy, chakras and bandhas, and much more. The unique benefit of taking a training with It's Yoga Thailand is that they work with you to find your unique voice as a yoga instructor. This will be imperative in your goal towards becoming a prominent teacher.
To learn more please visit It's Yoga Thailand.
Sadhana Yoga Chi
Located in beautiful and sunny Lake Tahoe, CA (USA) master teacher Doug Swenson leads his Yoga Alliance accredited Ashtanga yoga teacher training. Doug has been teaching for over 20 years and taught his brother (world renowned teacher Dave Swenson) yoga. By taking a teacher training at Sadhana Yoga Chi, you will learn such things as the principles of demonstration, observation, and how to assist students, meditation, pranayama, yogic philosophy and diet, anatomy, Sanskrit, Karma yoga, spirituality, the qualities of a yoga teacher, ethics and etiquette of a yoga instructor, and much more.
To learn more please visit Sadhana Yoga Chi.
Anuttara Yoga Shala
Located out of sunny Deerfield Beach, FL (USA), this Yoga Alliance accredited Ashtanga yoga teacher training is lead by veteran instructor Philip Christodoulou. Voted as the best teacher in South Florida, Philip has assisted over 600 students to become a yoga teacher. There trainings will cover everything from Vedas, Upanishads, Puranas, Epics, Other Shastras and Tantras.  Asanas and their spiritual, physical and historical significance.  Mudras, energetic bodies, chakras and nadis. Mantra, etc.  Creating a class based on Anuttara sequencing and alignment principles. Voice, narrative and Bhava principles, etc…and much more.
To learn more please visit Anuttara Yoga Shala.
Yoga Den Ashtanga Teacher Training
Located in sunny Los Angeles California, this Yoga Alliance accredited Ashtanga yoga teacher training is lead by master teacher Liza Villagomez. While the program is very "modern" in its approach to teaching yoga, they still stay true to many of the esoteric values of the yogic lifestyle by incorporating many healing modalities such as Kirtan, Reiki, ecstatic movement, and lucid dreaming. During this teacher training you will also learn cleansing, breathwork, meditation, asana sequencing, and much more.
To learn more please visit Yoga Den.
North Shore Yoga
Located in Evanston Illinois, USA, this Yoga Alliance accredited Ashtanga yoga teacher training is lead by E-RYT500 Sharyn Galindo. We asked Sharyn her approach to Ashtanga and her response was, "We honor the purity and tradition of Ashtanga Yoga according to Sri. K Pattabhi Jois where our classes offer a place of spiritual training by incorporating pranayama, chanting, meditation, and readings." North Shore Yoga has been helping students to become powerful teachers and they have gone to great lengths to ensure each student gets the attention they need to teach yoga effectively.
To learn more please visit North Shore Yoga
Yoga Teacher Training with Ashtanga Yoga Instructor Caroline Klebl
Caroline Klebl's 200 and 500 hour Yoga Teacher Trainings take place in Beverly Hills, California and in beautiful tropical retreat locations around the world. Caroline Klebl trained with Ashtanga Yoga Guru in Mysore, India for over nine years and teaches traditional Ashtanga Yoga Led and Mysore style classes throughout her Yoga Teacher Training Courses. The emphasis of her Yoga Instructor Training is the practice of the over 70 Yoga postures and countless Vinyasa (breath initiated movements that link one posture to the next) of the Primary Series of Ashtanga Yoga. More advanced students are taught the postures of the Intermediate Series one at a time. Caroline Klebl's Yoga Teacher Training includes traditional instruction and chanting of Patanjali's Yoga Sutras, study of Ayurveda, the Anatomy of Yoga postures and Meditation instruction. Her Yoga Teacher Training includes instruction in teaching the basic principles of the Ashtanga Vinyasa method and teaching and adjusting each Yoga posture of the Primary Series.
To learn more please visit Source Of Yoga
Ashtanga Yoga Resources
Ashtanga Yoga has been deeply rooted in the yoga community for some time and is a very well respected and well versed form of yoga teacher training. Ashtanga was a system of yoga developed and implemented by the sage Vamana Rishi in the mid 1900's and literally means "eight-limbed yoga" While Ashtanga yoga is not necessarily and advanced style of yoga, generally speaking yogi's who have been practicing yoga for a lot longer tend to draw to this style of yoga because of its attention to detail in poses. While anyone (or a beginner) can practice Ashtanga, more intermediate and advanced yoga practitioners practice this style because of its level of commitment and style of practice. In the US market, style like Hatha and Vinyasa tend to attract a lot more beginners so from a yoga certification perspective, a lot of students like to learn this style so they can reach a larger audience. Now that being said, people in the US have now been practicing yoga for some time now and more people will seek more advanced and deeper styles of yoga such as Ashtanga. Just bare in mind that unfortunately a lot of this has to deal with "yoga branding" in the US which is quite sad because all styles of yoga have something to offer. But if you are coming from a perspective of wanting to teach yoga as a career, then you should be aware of a style of yoga's roots and appeal in the marketplace. If you are interested in taking an Ashtanga yoga teacher training and certification program, here are some things to bare in mind.
What is the history of Ashtanga yoga?
Ashtanga Yoga, also called Ashtanga Vinyasa Yoga, is an ancient Indian Yogic system popularized by Pattabhi Jois, who began teaching this form in 1948 after twenty-one years of studying with his guru and the founder of Hatha Yoga, Krishnamacharya. The foundations of Ashtanga were set forth in the Yoga Korunta, an ancient text recorded by the sage Vamana Rishi and revived by Krishnamacharya. Ashtanga Yoga, literally meaning "eight-limbed Yoga", and was also outlined by Patanjali in his ancient manuscript, the Yoga Sutras. Ashtanga has a deep and rich history so be prepared for lots of reading and studying should you decide to take this yoga teacher training.
What separates Ashtanga yoga from other styles of yoga?
Ashtanga Yoga is a strict and physically demanding style that utilizes Surya Namskara A and Surya Namskara B, or Sun Salutations A and B, as well as the Ashtanga Primary Series, Secondary Series, and Advanced Series. Unlike other forms of yoga, which might build creatively on Sun Salutation A and so forth, there is no deviation from the original sequences; furthermore, Ashtanga classes are always conducted in the same prescribed way, beginning and ending with the Ashtanga Mantra. An Ashtanga yoga practitioner might spend years perfecting the Primary Series before he or she is allowed to progress to the more demanding Secondary Series, and only the most advanced students are permitted to work within the Advanced Series. Ashtanga also requires that each asana be held for a certain number of breaths, and emphasizes the flow, or Vinyasa, between these asanas. Ashtanga yoga is a serious style of yoga which takes a lot of patience and practice. Should you decide to take an Ashtanga yoga teacher training, you should not take this lightly as it will bring to surface any emotions or physical issues you might have stored in the mind and body.
What percentage of yoga schools and studios teach Ashtanga yoga?
As stated in the previous paragraphs, from a branding and recognizable level, Ashtanga yoga is not a most commonly used for of yoga practice. Currently approximately 4% of Yoga Alliance's registered US schools teach in the Ashtanga tradition. But as more people become dedicated to the yoga lifestyle and practice, they will start to seek deeper levels of yoga and Ashtanga is one of the premier styles of yoga where one can truly take their practice to the next level and become a yoga teacher.
How popular is Ashtanga in the yoga community?
Since the US is still very new to yoga, most people within the yoga community seek a more lighter and gentle beginner to intermediate style of yoga practice and this is not necessarily a bad thing since we all need to start off somewhere. But because of its demanding athletic nature and strict adherence to sequencing, Ashtanga Yoga may not be as appealing to the variety-seeking modern yogi as other forms. However, it is hard to find any style of modern yoga that does not draw on Ashtanga in some way. As such, Ashtanga can be seen as a pure and respected form of yoga that will always have appeal and relevance. Especially to those who seek to deepen their practice and graduate to the next level.
Who are the major teachers within Ashtanga yoga?
Until his death in 2009, Pattabhi Jois was Ashtanga's leading guru. Other modern day notables include David Swenson, Tim Miller and Matthew Sweeney.
What are some of the major studios that offer Ashtanga yoga as a daily practice?
As of this writing their are not many studios that offer Ashtanga on a regular basis although this will change later on. The Sri Pattabhi Ashtanga Yoga Institute in Mysore India, Ashtanga Yoga Shala in NYC and Ashtanga Yoga Center in Carlsbad CA.
What are Ashtanga yoga teacher trainings like?
Ashtanga yoga teacher trainings will vary in intensity from school to school, but it is a safe bet that wherever a potential trainee studies, those studies will be demanding, rigorous, and for some will test them on every level. A regular Ashtanga practice is required by most reputable schools for potential trainees.
What can I expect if I take an Ashtanga yoga teacher training?
Again, Ashtanga yoga teacher trainings will vary from school to school, but in general a student can expect a training as rigorous and comprehensive as the Primary Series itself. The Ashtanga Yoga website contains a worldwide directory of teachers authorized to teach Ashtanga by Pattabhi Jois- this is a great place to start checking into potential schools, as it is highly recommended that a trainee study with an authorized Ashtanga teacher.
If you are interested in taking an Ashtanga yoga teacher training here are some sites that offer more information
Ashtanga Yoga website: www.ashtanga.com
Downloadable Primary Series: www.ashtangayoga.info
Make sure to friend us on Facebook or follow us on Twitter to stay up to date with new articles offering guidance on how to teach yoga.
Are you interested in becoming a yoga teacher? Then visit our Yoga School Directory to find the right teacher training. Or, visit our Yoga Retreats page to explore beautiful yoga vacations from around the world.