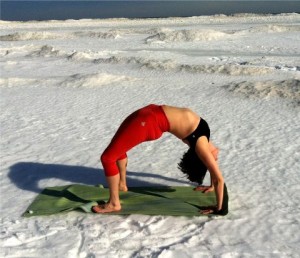 While earning my degree in Psychology, I took an elective in Eastern Philosophy for a change of pace from my primarily science-focused coursework.  This course was my introduction to yoga and the philosophy of mindfulness – it was like someone had written down everything I had ever felt and needed for a more balanced life.  I immediately started meditating and practicing yoga, and knew I had found the right path.
I first looked to yoga as a method to ease stress. During my first class I felt an instant feeling of relief, focusing on my breath and body alignment allowed me to step away from my daily tasks and devote an hour to creating a better me. The practice of Yoga has brought me peace of mind and improvement of health in a way that traditional exercise never could. Over the past 5 years of practice yoga has gifted me with calmness, relief from the pain of a shoulder injury, strength, weight loss, a sense of community, and a path toward becoming my Highest Self.
Additionally yoga has given me courage, I was inspired this past June to make a huge change in my life.  I quit my day job and have been pursuing my dream of teaching yoga, while taking prerequisite courses to gain entry into an Occupational Therapy program.  I took a leap of faith – it has not been easy, but I believe that things are beginning to fall into place.  I am so grateful to have found this yoga scholarship, I feel like this is an opportunity, it is a light shining onto the right path for me.
My ULTIMATE dream goal as a yoga teacher is to whole-heartedly pursue a career as both a yoga instructor/advocate, as well as a health professional.  I believe that from within the world of healthcare I will have the ability to make the most difference.  I can see myself promoting yoga for patients in the hospital, in an out patient clinic, and as a physical therapy modality.
After my shoulder injury, yoga was a way for me to get my life back, and to find relief from the pain.  I want to give this hope to others, I want to provide yoga therapy to those who could not otherwise attend a yoga class.  I want to research and implement Yoga Therapy in combination with Occupational Therapy for people with disabilities and injuries.  As B.K.S. Iyengar said, "Yoga teaches us to cure what need not be endured and endure what cannot be cured."  THIS is how I want to bring the gift of yoga to the world!
If it were not for the following teachers, I would never be the person I am today.  I am so grateful for their gifts and hope to honor them by following, sharing, and expanding on their works.  One of the first Iyengar Yoga instructors that I met is named Karen.  She has been a yoga student since the 1960's and her expertise was obvious to me.  Her knowledge, kindness, physical ability, and encouragement are what ultimately inspired me to pursue my dream of teaching yoga.  Also Julie Gudmestad, who I met at the Yoga Journal Conference this past summer, for making me believe that combining health care and yoga is possible!  And, of course, B.K.S. Iyengar for his amazing contribution of developing a yoga modality that truly is accessible to anyone and everyone.
I have chosen North Shore Yoga to complete my yoga certification… because their program is intense!  I am ready to step up to the challenge to complete a 500-hour RYT program.  I believe if I am to achieve the goals that I have set for myself, then I need to (and really want to) become a yoga expert.  I am so excited for a teacher training that will push me to my edge and beyond, to become the best yoga teacher that I can be.
Now or Never.  I choose NOW.
2012 Yoga Scholarship Essay
By: Rita Burlingame
If you liked this article and want them to win a free yoga teacher training, then make sure to vote for her by leaving a comment (scroll all the way to the bottom), and sharing this article on Facebook or Twitter. Each comment, Facebook, and Twitter share counts as one vote and you can do all three!
Are you interested in becoming a yoga teacher? Then visit our Yoga School Directory to find the right teacher training. Or, visit our Yoga Retreats page to explore beautiful yoga vacations from around the world.