200hr Holistic Mixed Styles Teacher Training In Lake Tahoe, CA
Yoga Alliance: Yes
Contact: help@yogatrainingguide.com
Our program embraces the concept in which we feel – a yoga teacher should be more than just an asana coach and spiritual teacher. We believe a yoga teacher, is a mirror to reflect the ultimate best potential of each individual student, as we all strive to grow, learn and expand the consciousness of Humans. This unique course offers full spectrum Yoga Training for all levels of practice.
Sadhana Yoga Chi – is a holistic presentation – constantly evolving to better itself in all ways. This concept being achieved through; daily yoga practice, holistic fitness, enhanced diet, philosophy and integrity of daily life. This program is the highest quality education, unrivaled beauty of nature, daily adventure and lots of fun.
We believe a smaller group is more productive, creates better comfortable and allows the student to have greater personal attention. In light of this we limit our programs to 27, or less students in each group. Our Yoga Teacher Training – is more than just a Yoga Training – our program is a recipe for a better life. All those who attend – will leave as a much better yoga teacher – with a smile on their face, warmth in their heart and inspiration to excel in all of life.
Doug has been training teachers for over 30 years and is proud to have many of his students – grow into some of the most popular and productive teachers in the world today. The destination is nothing, without the journey, which builds true character and self-esteem and in the end you become the light of awareness.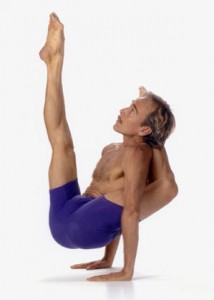 About Doug and Sadhana Yoga Chi
About Doug
Doug is the author of several books, with over 40 years teaching experience. Don't miss the opportunity to study with one of the world's best instructors! His classes are always inspirational, educational, invigorating and relaxing. In addition to Doug's wonderful, supportive style – of holistic teaching, his keen sense of humor always brings a sense of joy to every class.
Doug has been a member of – National Yoga Alliance, since 2002 – Rated E-RYT-500
The demand for Doug's unique teaching approach have resulted in his – Teaching high quality Classes, Workshops and Teacher Training programs for over 40 years in the U.S. and around the world.
Sadhana Yoga Chi – Doug's Holistic Approach – to Teaching
Sadhana Yoga Chi is an evolution of Vinyasa Yoga, Ashtanga Yoga, Yin Yoga, Power Yoga and Restorative Yoga. Students will enjoy a unique holistic approach to yoga training… using both – hard, (more challenging) and soft, (less challenging) techniques.
This approach will greatly enhance the students; progress, self-confidence, and ability, in all styles of yoga asana practice. In addition – this expansive program will encompass all aspects of a balanced approach, both physically and mentally. Including enhanced diet, cross training and philosophy for a progressive life.
Hard and Soft Techniques – (More Challenging / Less Challenging)
Doug teaches a balance between both hard and soft styles of yoga practice. The hard style is more challenging, using muscle resistance based vinyasa. The soft is less challenging, without muscle based vinyasa. The course provides a professional approach to; Vinyasa Yoga, Ashtanga Yoga, Yin Yoga, Power Yoga and Restorative Yoga.
This Sadhana Yoga Chi system can be more challenging than Ashtanga Yoga, or as gentle and light as Yin and Restorative Yoga. The recipe for success is to alternate challenging days with easy days, cross-training, and some rest days.
Individual Basis
The whole course is centered on recognizing each student as an individual. Beginners will receive simplistic, yet helpful and targeted instruction, while the advanced student will find it challenging and invigorating. Small groups (27 maximum) will insure more personal attention and a greater overall experience for each individual.
Other Systems of Yoga – Honored and Respected
Sadhana Yoga Chi is a complete system in itself; however, students are encouraged to practice and respect other styles of yoga lineage in order to attain a broader perspective and education of the art, science and practice of Yoga.
Our Teaching Staff
Doug teaches 80 percent of all the classes and lectures ! Other specialized teachers include Jennifer Wolfe (Pre post-natal Yoga), Kimball Chatfield (Herbal Medicine and Acupuncture), Scott Nanamura (Anatomy, Tibetan Heart Yoga).
Topics Covered in Sadhana Yoga Chi
Vinyasa Yoga / Ashtanga Yoga / Power Yoga / Yin / Restorative Yoga
Principles of Demonstration, Observation, Assisting, and Class Instruction
Influence and Respect for Mixed Styles and Yoga Tradition
Developing A Flexible Mind and Body
Yoga Adjustments and Partner Yoga
External and Internal Tools for Success
Qualities of a Yoga Teacher and Ethics
Yoga as a Successful Business
Teaching Workshops & Intensives
Suggestions for Menstruation, Pregnancy, and Menopause
Enhanced Speaking Tone and Wording Affects
Yoga Kriyas; Internal Cleansing and Body Detoxification
Cross Train With Yoga For Athletes, Weight Loss, and Holistic Fitness
Yoga for Seniors and Children
Therapeutic Yoga Designed for Specific Issues
Meditation, Deep Relaxation, and Stress Management
Unique Yoga Vinyasa As A Moving Meditation
Sanskrit Sacred Words
Anatomy Related to Yoga Postures and Beyond
Avoid And Overcome Injury And Specific Wrist Exercises
Subtle Anatomy: Inner Conscience And The Chakras
Patanjali's Yoga Sutras and Philosophy of Yoga
Karma Yoga: Body and Earth Ecology
Enhanced Yogic Diet
Eight Limbs And Yoga Branches
Many Paths to Spirituality
Food and Lodging Options …
Lodging Only:
$650 per month / based on sharing a room with one other
Private room and private bath is an additional $500 per month
Food Option:
Healthy Organic Vegan Meals (breakfast, lunch & dinner):
$650 per month
$175 per week
$75 per 3-day weekend
Food & Lodging Together:
$1350 per month – on shared accommodation
$350 per week
$160 per weekend
The Lodging
Depending on the size of the group: We rent private buildings for lodging – always very nice / modern houses with all the extras & full kitchen.
To register – you only need to fill out the online application on our website
Notify Doug by written E-mail, or phone call. Plus secure the $800 deposit
Daily Schedule:
(Some slight modifications – may apply)
Mon – Fri:
8 a.m. – 11:00 a.m. ( Some occasions could go to 11:30 )
Yoga practice and lecture
11 a.m. – 12 noon – Lunch time
12 – 3pm – Optional Daily adventure ( Some days we may go until 4 p.m.)
3 – 6 p.m. – Lecture / study and Yoga practice
Doug and Mayra
6 pm, or 7 pm Dinner
Saturday:
8:30 a.m. – 11:30 a. m.
11:30 – 12:30 Lunch
12:30 – 3:30 pm…. Lecture / study practice
3:30 – 6:00 pm (Free Time)
6 p.m. Dinner
Sunday:
( Off – free day )
Explore the amazing beauty of Tahoe, or just relax J
See below for some amazing optional activities…
Optional Activities Include:
Try – Hiking, biking, swimming, rafting, water sports and boating – rock climbing, horseback riding, mountain climbing, winter sports and the hot springs. For the less active – you will also find shopping, tourist attractions and night life.
Body work and Spa Treatments are always available upon request.


We Serve – the Best Food Ever
If you choose the food option, meals will be vegan cuisine & all organic (when available). These are the best quality meals, prepared in a tasty and appealing manor, using the finest ingredients available. Meals are created with tender loving care, for your personal delight and dining pleasure.
Student Testimonials
Re: Doug Swenson – Lake Tahoe – Yoga Teacher Training Program..
Doug Swenson is an inspiration and shining example of healthy yogic lifestyle. Proof positive, that vegetarian food can make you as strong as Tarzan. Doug´s exuberance and sense of humor makes for never a down moment. To know Doug Swenson is to love him. A true yogi, poet, traveler, comedian, spiritualist, and chef all rolled into one.
The Tahoe Teacher Training touched on many aspects of; Yoga, Diet, Anatomy and Philosophy. A full immersion – " I would recommend this to any serious practitioner or aspiring teacher."
Carsten Weise, RYT 200 graduate – Yoga Teacher, Studio Owner – Oelegem Belgium
The 200-Hour with Doug has changed my life in amazing ways! I hope I can be part of this class next year!
Danielle Allen / RYT 200 graduate / Yoga Teacher – Brazil and California
"Having done both of these trainings this year, I can attest that it's a life changing experience which will leave you well prepared to teach yoga and to get more in touch with your true self."
Simply an amazing experience – so glad I did it …
Chris Courtney / RYT 200 &- 500 graduate – Yoga Teacher / Editor Elephant Mag. / Lake Tahoe, CA
Celebrate your greatness, become healthier, stronger, and more calm. If you would love to have an extraordinary experience, do it – the spaces will go quickly. I did that teacher training and it was beyond words,
Doug is patient, compassionate, and generous, …
Simon Mosley / RYT 200 &- 500 graduate – Yoga Teacher / Personal Trainer / Performer – Las Vegas, NV
"The teacher training course with Doug Swenson in Lake Tahoe was one of the most memorable experiences of my life. In addition to all of the yogic knowledge Doug has to share, he is also your adventure guide, cook, story teller and entertainer. Doug is a rare gem, a true yogi…he has a daily yoga practice, embraces the vegan lifestyle, is kind to others, has a great sense of humor, respects nature…what more could you ask for in a yoga teacher !"
Some Frequently Asked Questions
Are books and materials included in the price of the training?
Your Teacher Training manual is included in the price of the training program. Your textbooks are not included in this fee – however we usually have house books to check out and share with the other students.
What level of Yoga – do you have to be practicing to attend the program?
We feel it is advantageous to have students of all levels in the Teacher Training program, this allows the teachers to practicing teaching in a variety of situations and abilities. We all complement one another to create a beautiful symphony of energy. Those who want to work physically harder – may do so, those who do not, will not be asked to practice beyond their own comfort level.
When will I find out if I have been accepted into the program?
Upon submitting your completed Teacher Training Application, you will be contacted, though e-mail within 1 week with our decision. If you are not accepted your full deposit will be refunded. Most people are accepted – although there are a few times when we feel an individual would not best represent the group. In that case we will explain and you are welcome to discuss this with us.
Will I have access to internet, phone, store's and outside world ?
Yes of course – we have internet, no phone – you have to bring your cell, stores are close by, walking, or bike ride.
Videos Of Doug Swenson Yoga Teacher Training's
Please contact us to learn more