Mandorla Yoga Institute Teacher Training
CONTACT
ACCREDITATION
Registered Yoga School with CYA, YA, NHPC and Accredited Canadian School issuing tax receipts
SERIES
200 Hour Yoga Teacher Training in Yin, Restorative and Vinyasa
200 Hour Thai Yoga Therapist Training
DATES
Yearly Schedule:
Spring Every other Weekend Training April to June
Fall Winter, One Weekend per Month training October to March
6 day intensives in July, August, September and March
One day per week training, October to March
ABOUT THE TRAINING
Our 200 hour Embodiment yoga teacher training is an offering for women who feel ready to connect with themselves and others more authentically. Involving movement, breath and meditation with a gentle and body positive approach, our program speaks to the specific needs that women have as caretakers, professionals and mothers. With sensitivity to the unique physiology of the female body, sequencing is taught in an accessible and empowering way. Time is given to digest and process, dialogue, share and grow. We slowly take you through practices in yin, restorative and vinyasa yoga from the ground up so that you are encouraged to work lovingly with your body. We will teach you how to become a teacher, yes, but more importantly, our intention is to support in you in establishing a deeply enriching personal yoga practice. Many women take the training simply for this experience. We believe that yoga is an innate practice, something that we all were born doing naturally. We hope that through our teaching approach you are supported in more deeply connecting with your own innate intelligence to more clearly hear your own inner voice, feel more decisive, inspired and confident. 

We offer these trainings from our heart to yours and take supporting you on your journey very seriously. As an accredited educational institute in the province of Alberta, your tuition for this training is 100% tax deductible.  As an accredited school with the Yoga Alliance, graduates are eligible to acquire the designation of Registered Yoga Teacher. 

We want our program schedule to be accessible for you! You can start anytime, any month of the year with our ONLINE modules that you can complete from the comfort of your own home or office. When you can make time for the remainder of your training, we offer the training in 3 unique formats: weekday, weekend and week long intensives. And you are welcome to blend dates from any of our formats to find a schedule that works for you. Our weekday option was designed with mothers in mind with a strong focus on self-care and applying yoga techniques for your children and family. This unique schedule is offered one weekday per week in both the fall and winter and optional childcare is provided.
200 Hour Thai Yoga Therapist Training
Our 200 hour Thai Yoga Therapy training merges the arts of Thai Yoga Massage with  Yoga Therapy for the purpose of creating practitioners who are able to offer heightened sensitivity through the element of touch and a deep responsive listening that allows you to tailor each session to your individual clients. This modality allows you to support your clients physically, emotionally and mentally through yoga asana, stretching, massage, breath work and energy work in a meaningful and transformative way. 

This is an advanced 200 hour yoga teacher training certification in Thai Yoga Therapy with the Canadian Yoga Alliance and is a registered Thai Yoga Massage training with the Natural Health Practitioners of Canada. Graduates who complete this program in addition to completion of our 200 hour Embodiment Yoga Teacher Training, may apply the hours from this program toward their RYT350 and RYT500 designations.
500 Hour Yoga Teacher Training Mentorship
Graduates who have completed their 200 hour yoga teacher training and either our Embodiment or Thai training are eligible to apply for this unique opportunity to earn your RYT500 under the direct tutelage of a Senior Teacher. This is how yoga is best taught, one to one in real time application. This mentorship is only offered to one candidate per training.
ABOUT THE TEACHERS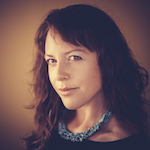 Stefani Wilton B.A., RMT, C-IAYT, E-RYT, YACEP
Stefani Wilton is a mother, writer, movement therapist and educator living in Calgary, AB. Specializing in pregnancy and women's health, she is the creator and director of the Mandorla Yoga Institute and is a passionate advocate for restoring the feminine. Stefani is a Registered Massage Therapist (2200 hours), a Certified Yoga Therapist (C-IAYT) and an Experienced-Registered Yoga Teacher at the highest designation through Yoga Alliance with over 5,000 hours of teaching experience. Teaching yoga since 2001, Stefani has trained in Vinyasa Flow Yoga, Yoga Therapy, Meditation, Prenatal Yoga & Massage, Fertility Massage, Therapeutic Massage, Deep Tissue Massage and Thai Yoga Massage. She has studied with teachers in Detroit, Montreal, Toronto, Seattle and Thailand. Greatly inspired by Anusara yoga and Viniyoga, Stefani specializes in movement therapy in support of the mind body connection for optimal physical and mental health.  Stefani has studied Holistic Nutrition, Ayurveda and Raw Vegan Culinary Arts and in addition to offering nutritional counseling, has taught cooking workshops and classes in Southern, Ontario where she used to reside.  In addition to her yoga and massage therapy practice, Stefani's experience includes owning and running a successful yoga studio and a raw vegan catering business, inspirational speaking engagements and writing for publications including the Canadian Yoga Alliance Journal. Currently, Stefani is working with the Psychologist team at Serenity Now Wellness Clinic in Calgary, AB to develop trauma informed protocols for supporting mental health through the practices of massage and yoga therapy.