200-Hour Yoga Alliance Vinyasa Yoga Teacher Training In NJ
Style: Vinyasa
Date: October 5th – January 26th, 2014
Location: New Jersey, USA
Yoga Alliance: Yes
Schedule
Tuesday nights 7:30 – 9:45
Thursday nights 6:30 – 9:30
Every other Saturday 1 to 6
3 Sundays a month from 2 – 5:30
Description: 200-Hour Yoga Alliance accredited Vinyasa Yoga Teacher training just minutes from NYC, on the West side of the Hudson River. Our Yoga Teacher Trainings cover all aspects of Vinyasa Yoga including Asana, Meditation, Pranayama, Alignment, A & P, Sutras/history of Yoga, Basics of pre/postnatal Vinyasa, Basics of Thai Yoga, Adjustments, props, Modifications for injuries/rehabilitation, etc. FlorYoga trainings are very small & extremely "hands-on" as we only accept 10 TT's for each training.
We will cover all aspects of basic yoga teaching & practice:
Pranayama (breath work)
Sun Salutations (at least 3 variations)
Alignment
Anatomy and Physiology
Adjustments and Basic Thai Yoga
Injuries – Indications/Contraindications
Meditation and energy balancing
Communication and Responsibility
Sequencing (Practice Teaching)
Prenatal and Restorative Yoga
Bandhas and Chakras
Static Standing, Balancing and Floor Poses
Non-Weight-Bearing Inversions
Legal Issues and Marketing/P.R.
Private vs. Group Teaching
Meet The Teachers
Sarah and Tomas Marsh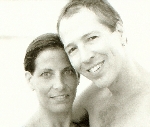 Founders of Flor Yoga Fitness, Sarah and Tomas Marsh have been practicing and teaching Yoga for twenty years. They have studied under some of the greatest Yoga Masters in the world including Bikram Choudhury, Baron Baptiste, Richard Freeman, Jhon T, John Friend, Deb Flashenberg, and Sandra Sommerfield-Kozak. In 1997, Sarah opened the first Bikram (hot Yoga) studio in Manhattan where she stayed for seven years. During that time, Sarah and Tomas were hired by The New York Football Giants to train the entire team pre-season. They worked closely with Amani Toomer, Michael Strahan and Tiki Barber among others. Their other high profile clients include: Scott Wolfe, Martha Stewart, Molly Simms, Gina Gershon, Drew Barrymore, Anastasia, and Robin Strasser. For the last ten years they have run Corporate Yoga programs for Sony Music Corporation, First Brokers' and True Entertainment. Currently, Sarah and Tomas bring Vinyasa, Prenatal, and Restorative Yoga to eight Condominium facilities in Jersey City. For the past six years, they have been parents to Cody Marsh, and loved every minute of it. Cody has given them a brand new appreciation for the benefits of all styles of yoga!
Marilyn Barnett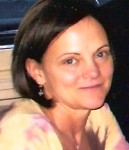 Marilyn Barnett has been studying yoga since 1993, is a certified Bikram Yoga instructor and author of Hot Yoga. Her background in the medical profession inspired her to open several yoga studios, as she wanted an opportunity to lead others on the path to wellness. Marilyn also studied intensively with Sandra Summersfield-Kosak, founder of Yoga International Studies. Through this program, she was exposed to various styles and philosophies of great yoga masters whose influence are now present in her meticulous and nurturing method of teaching. Her detailed approach to asana practice gently guides students beyond their restrictive habits, challenging them toward their fullest expression of the poses . She currently practices nursing in Arizona, teaches yoga, and is a full time student working toward a degree as a nurse practitioner.
Sita Jagai

Well-being, meditation, deep breathing, and healthy eating have always been the core of Sita's lifestyle. She was certified to teach Hatha Yoga in 2005, and since then has continued to learn and integrate many styles of yoga and meditation into her life and teaching. Sita is an extremely caring instructor who will guide you according to your needs. She can bring you static Hatha poses, Vinyasa flow movements, and Core building. She encourages students to connect with their breathing & stretching, fueling and energizing their mind & body while deepening inner focus.
Jason Machowsky

Jason is a trainer, nutritionist, writer and educator. As a Registered Dietitian (RD) and Certified Strength and Conditioning Specialist (CSCS) Jason aims to promote wellness and enhance quality of life by empowering people to integrate healthy movement and nutrition habits into their daily routines. He has worked with many different populations from the Columbia University Baseball Team to about 80 employees at the Southern California Gas Company. He has written articles on nutrition and fitness for a number of sites including LiveStrong.com and RD411.com and maintains his own wellness blog at Thymelines.com. Jason has also had the opportunity to give back to his profession by teaching the Intro to Nutrition course at Lehman College, provides a comprehensive nutrition and physiology seminar to the yoga teacher trainers at FlorYoga and is in the process of becoming certified to prepare trainers for the ACSM personal trainer certification exam.
David Steinberg

David has been practicing yoga since 1993, and teaching since 1999. He started out teaching Bikram yoga, but then discovered Vinyasa, meditation and Thai yoga therapy. In addition to yoga therapy, David has been a psychotherapist since 1994, and has a private therapy and healing practice both in NYC and Philadelphia.
Frequently Asked Questions
What Makes Our Yoga Teacher Training Unique?
Because we like to keep our courses small and intimate, we offer much more individual & "hands-on" attention during your training. What this means is that you will be given a lot more information & adjustments first hand to truly learn and grasp each component of what it takes to become a yoga teacher and teach effectively. Our goal is to make sure that each student leaves well prepared and ready to truly guide their students to true health and happiness. So if you feel that you would like more attention from your teachers during your training, then we are the perfect school for you. Also, each group (being so small) becomes a little like a family, and we have seen amazing, lasting friendships bloom. Our training, though tough, is FUN and we do not take ourselves too seriouslyJ We feel absorbing all the knowledge into your brain and body is hard enough, so our teachers bring humor and humility into the yoga school (along with some butt-kicking, and some really long, intense exams!)
Starting your Yoga Teaching Career:
Another great reason to take FlorYoga's teacher training is that we have an established business system already in place in Jersey City and New York City where we offer mobile yoga to many people in their business or home. Our client base is constantly growing which means we are always hiring more teachers. Since we prefer to hire from within, this means that if we train & graduate you, we can immediately put you to work in our growing yoga business.
The Business Of Yoga
Because of our extensive work with national athletes and Hollywood industry leaders, we can teach you first hand how to develop your own personal teaching career. We mentor you through the "business of yoga" helping you launch your Yoga teaching career. We talk about liability and legal issues, and help you establish your own private insurance and can also offer help with marketing & promotion.
To learn more about our upcoming yoga teacher trainings please contact us