Beginner 200hr Hatha Yoga Teacher Training In Deerbeach Florida
Contact: help@yogatrainingguide.com
2013 Dates:
June 21 – July 21
October 6 – Dec 15
Location: Deerfield Beach Florida, USA
Style: Hatha
Series: Beginner 200hr
Yoga Alliance: Yes
What is Anuttara Yoga?
Anuttara yoga is traditional Hatha Yoga Practice but founded on Classic Ashtanga Philosophy. You will be trained primarily by Yogacarya Philip Christodoulou ERYT 500.
Why would you do an Anuttara Yoga Teacher Training?
1. Attain Yoga Alliance Certification of 200 Hours.
2. Continuing Education for Certified Teachers towards an ERYT 500.
3. Learn how to conduct three specific styles of practice, Beginner Hatha Yoga 101, Vinyasa Krama and Yin-Restorative.
4. Equal emphasis is placed on the Physical, Intellectual and Spiritual aspects of Yoga. Understand Bio-mechanics and Asana, Pranayama, Basic Sanskrit, Mudras, Mantras, Yoga History and Yoga Darshana.
Our graduates will be able to hold their own at any school, anywhere!
5. Graduates will be granted the blessing to teach classes at the school, initially at times when the space is available and later, possibly, as staff.
6. Deepen your practice to the level of a Professional Yogi even if you do not intend to teach.
What makes your yoga teacher training unique?
The Anuttara Yoga Method emphasizes all relevant aspects of The Sacred Science of Yoga. Teaching yoga is not a random collection of postures. There are many variables that the teacher has to consider, such as voice, pacing, logical sequencing, group-appropriate level of practice, touch assists and corrections, bhava or mood, getting and keeping students interest and support etc. So that we don't reinvent the wheel with every generation, we place great importance on our Lineage from Mahavatar Babaji, Yogiraj Lahiri Mahasaya, Swami SriYukteswar Giri, Swami Paramahansa Yogananda and Yogiraj Bishnu Gosh. We compare this lineage and seek to reconcile it with the sacred Lineage of Yogiraj Krishnamacarya. All this is explained through the grand sweep of history starting with anthropology and anatomy, symbolism, sacred texts, comparative linguistics and religion and how this pertains to our modern practice.
Do you offer any support for students looking to build their career as a yoga teacher?
While Yoga Alliance maintains 200 hour training as a minimum for certification, a true Teacher Of Yoga requires much more than that. As a graduate, you are expected to continue your education and practical experience. You may be asked to substitute teach classes, advised and promoted to teach at other locations and at the School where appropriate. Graduates enjoy half rates on all memberships and Continuing Education courses at the Shala as well as free attendance at our 200 Hour programs. All staff at the Shala are always available to mentor you as a graduate.
What types of students best fit your programs?
The best graduates enter our program in order to learn the Sacred Science of Yoga. If your intention is merely to get a job, this is not for you. Yoga Teachers versus yoga instructors manifest from a place of deep knowledge and a keen understanding of the practice. Teaching is a natural outpouring of this.
An Anuttara training is very intellectually, philosophically and physically rigorous. Alignment and Logical Sequencing are emphasized. A yoga class is not a random collection of postures. You will find out what it is that you want to teach and be given the knowledge and technique to teach it.
What can a student expect from an Anuttara yoga teacher training?
Lots of practice, methodology, history, philosophy, linguistics, comparative religion, anatomy and alignment, community and mentoring and ultimately self-transformation. You will never see the world the same way again.
What should a student not expect?
Boot-camp, new-age relativism, religion, boredom, injuries, mediocrity, a job, preaching, dumbing- down of five thousand years of history.
What is the vibe and overall tone of the teacher training?
Fun, educational, transformational, intense, life-altering!
How often should I practice Anuttara Yoga?
You should practice at least 4 or 5 times a week. The best is twice daily, 6 days a week. The more you practice, the quicker you progress. If you practice infrequently, then eventually you will abandon your practice as you will not progress as quickly as you like and you will remain stiff and sore.
Once you become proficient, your body and mind will DEMAND to do yoga simply because it feels so good! Initially, the hardest part is getting to the school.
What if I have an injury?
Yoga is a healing mechanism for most physical as well as mental and emotional injuries. After checking with your doctor, start practicing with wisdom, honoring your circumstances to attain quick and progressive healing.
Am I too old?
NO. Yoga is for all able- bodied adults and mature-minded younger people. A yoga practitioner at 60+ is actually in better shape than a slothful teen. It is said that yoga reverses the aging process.
REQUIRED READINGS: (Provided at Registration)
"The Shambhala Encyclopedia of Yoga" by Georg Feuerstein
"Autobiography of a Yogi" by Paramahansa Yogananda
"Yoga Anatomy" by Leslie Kaminoff
Anuttara Yoga Teacher Training Manual (Provided at Orientation)
Requirements:
1. At least one year of consistent practice.
2. Minimum of High School Diploma or equivalent. Any Tertiary education will be very helpful.
3. Ability to communicate effectively in English.
4. Physical and Mental ability to sustain a rigorous training.
Teacher Training Curriculum
History: Vedas, Upanishads, Puranas, Epics, Other Shastras and Tantras. Asanas and their spiritual, physical and historical significance. Mudras, energetic bodies, chakras and nadis. Mantra, etc. Creating a class based on Anuttara sequencing and alignment principles. Voice, narrative and Bhava principles, etc.
General Day At Our Program
A general day at Anuttara Yoga Shala will include a 7am Meditation Flow Class, One Anuttara Vinyasa Class and discussion based on these classes.
Teacher Profiles

Philip Christodoulou has helped to certify over 600 people as Yoga Teachers. Initially as Teacher Training adjunct to the Barkan Method of Hot Yoga and then as co-owner and Yoga Director of Anuttara Yoga Shala. He is known as "a Teacher's Teacher". His emphasis is on alignment and sequencing through the template of history and philosophy. Philip was voted as Best Yoga Teacher in South Florida by the Yoga cOMmunity in 2010 he continues to teach master classes at Anuttara Yoga Shala and holds Teacher Training programs at the school. These are Level 1 Hatha Yoga 200 hour YA certifications and also Level 2 100 hour Raja Yoga certifications. The school was built on the Ethical Foundations of Yoga. With his long-term experience, innate wisdom, compassion and humility, he will help to find the student's authentic voice and mentor the graduate with on-going guidance. Yoga Teacher Training is about Self-transformation and the Yoga Teacher is an Instrument for changing the world.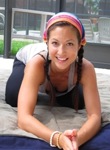 Jessica Stiehm is a passionate full-time Yoga Teacher, Vedic Thai-Yoga Bodywork Practitioner, and 2 or 9 Teachers of the Vedic Conservatory for Vedic Style Thai-Yoga Bodywork, Certified Reiki Practitioner, and Mantra/Kirtan Artist. Jessica had influences of meditation and inquiry into Self since she was a child, and remembers meditating with her father in the morning at the early age of 3! She also found herself naturally doing different meditation practices as a young girl that she was unfamiliar with at the time. Jessica finally found her answers at the age of 21 when she was introduced to yoga. Now a teacher, she is continuing to learn and study the sacred science & different healing arts and modalities. Her influences come from Kripalu, Ashtanga, and Siddha yoga paths. Jessica also has a passion for music and has been singing and performing since she was 5. It was only natural after discovering sound healing and mantra, for her to incorporate the healing vibrations of mantra into her singing, and playing various instruments, including her harmonium, for her yoga classes and various events. She holds regular Vedic thai-yoga trainings with her partner in her company JAI Healing Arts.
Past Student Testimonials
Sharon Ali-My teacher training experience has been life changing. I had practiced yoga for years, but never really got what I was looking for. I went through the postures, always with a sense of wondering. What does this mean? At Anuttara I found the answers. The rigorous athletic component was matched with challenging studies in the history, culture and philosophy. It was a soulful, cathartic experience that ended a life-long habit of "going through the motions".
Jessica Chin fong -Attending Anuttara Yoga Shala's Teacher training has been one of those pivotal moments in my life. During the one-month intensive program, I grew immensely. I gained so much knowledge, about the mysteries of classical yoga and about my inner self. The training was challenging and very rewarding. The relationships I formed, the knowledge I gained, and the love I experienced, completely rearranged the way I see life. I consider myself lucky to have Phillip as a mentor and to be part of the Anuttara family.
Liz Hardy-Teacher training with Philip Christodoulou at Anuttara yoga shala was a life changing experience for me. With the guidance & support I received I have grown into the person I have always wanted to be & found an inner strength within myself I never knew I had. Philip has taught me the deep philosophy behind the postures & breath. He has also helped me to tap into the spirituality of yoga which has brought my practice to a whole new level. I am so grateful to have been taught by such a wise & powerful teacher. I would recommend this teacher training to anyone who wants to teach or deepen their practice. 
Images Of Our Studio & Recent Teacher Trainings
To sign up or learn more please contact us