Veteran Yogi Sue Hopkins Offers Advice To New Yoga Teachers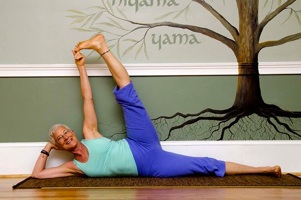 Susan Hopkins has been practicing yoga since 1990. She first started a personal practice because of back pain. Being in the medical profession, Sue knew the importance of creating and maintaining a healthy body. What she later discovered in her practice was how their is also a mind/body connection. After years of a personal practice, Sue became interested in a deeper study of the yoga tradition. In 2001 she was able to Register with the Yoga Alliance. She has continued to teach, learn and practice, making her teaching effective and valuable to all who attend classes or teacher training programs.
What is yoga to you?
Yoga started as a physical practice and has developed into a lifestyle. I can't imagine what life would be like without it. As I developed my personal practice I have enjoyed the journey of the Eight Limbs of Yoga. Now yoga is as much meditation, pranayama, and the way I live as it is postures.
What inspired you to become a yoga teacher and with whom have you done your trainings?
In the early 90's, when I mentioned I was practicing yoga, friends and patients always wanted to know more; especially since it helped my back issues. I decided to take a teacher training program and I chose an Iyengar based training in Asheville with Lillah Schwartz. I loved the details and the alignment of this tradition and Lillah continues to be my mentor, teaching as part of my 500 hour program. During this time I studied with Eric Small, Jnani Chapman, Eric Schiffmann, Rodney Yee, Dean Learner, Aadil Palkhivala,  and Roger Cole.
As my practice developed I was led to study Yoga Therapy with Joseph LePage and the Integrative Yoga Therapy staff. This brought a wealth of knowledge to my teaching.
Recently as I have been enjoying a more Yin style personal practice I have studied with Paul Grilley and Sarah Powers, who offers both yoga and meditation.
What have been some of the biggest challenges in developing your teaching career and how did you overcome them?
One of the biggest challenges to my teaching career was the fact in the early 90's yoga was not totally accepted as it is today. As yoga became mainstream it now offers a whole other set of challenges.
When I first started teaching, in 1999, I was still practicing my day job and teaching at night. I also have a family, children now grown, and like all professions, finding the balance between personal and professional lives. My career as a yoga professional started small and focused, and has with time, developed into what it is today.
As the director of your schools teacher training programs, what is your overall goal and objective?
As the director of the Yoga Teacher Training programs at Etowah Valley Yoga, my goal and commitment to my students, is to offer a practical training in all aspects of yoga that fulfill the Yoga Alliance requirements for the 200 hour and the 500 hour programs. My graduates are confident, safe, and knowledgeable yoga teachers.
What do you feel is unique about your yoga teacher training programs versus other schools?
Etowah Valley Yoga offers small personal training. The teachings are a blend of Sue's background in Iyengar yoga and Yoga Therapy. Because of this combination Etowah Valley Yoga addresses the whole person, the whole practice. We are a well established school, first approved in 2007 by the Yoga Alliance. When ever possible some of the best names in anatomy are part of these programs and well as other experts in the field of yoga.
We are currently hosting David Keil, Nicolai Brachman, Lillah Schwartz and Marlyssa Sullivan. In January of 2011 we will also offer a pre-natal yoga Teacher Training and Yoga Therapy Training.
What type of students would best fit your programs?
An aspiring yoga teacher  who is interested in studying yoga as a life style, who can come open minded and ready to learn, is our best match. Students do not come to show us how much they already know, but what they are willing to learn.
It is recommended that the future teachers have a personal practice and have taken classes from a qualified yoga teacher.
What qualities do you feel make a good yoga teacher?
To be a good yoga teacher one must have knowledge, practice, a mentor,and compassion!
Is there any advice you would offer to aspiring yoga teachers?
My advise to new yoga teachers is to teach who is in front of you. Don't judge the  success of a class by the number of students in the class, but instead by what personal attention each student received. As teachers we are guides for our students, both on the mat ond off.
To learn more you can visit Etowah Valley Yoga Teacher Training.
Are you interested in becoming a yoga teacher? Then visit our Yoga School Directory to find the right teacher training. Or, visit our Yoga Retreats page to explore beautiful yoga vacations from around the world.